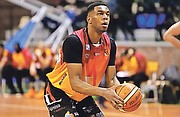 By RENALDO DORSETT
Tribune Sports Reporter
rdorsett@tribunemedia.net
BAHAMIAN pro basketball player Willis Mackey Jr received league-wide recognition for a standout rookie season in Spain.
Mackey is based in Salamanca, Spain and plays for Aquisima Carbajosa of the Liga Española de Baloncesto Aficionado, commonly known as Liga EBA. He was named the EBA's Eurobasket Player of the Year, Import Player of the Year, Forward of the Year and was an All-EBA 1st Team selection.
Mackey led the club with 16.5 points and 7.8 rebounds per game.
"I just feel blessed. That's just an honour just to be recognised on that stage and to be recognised at the top of the league, as the best player in the entire league and in the whole country. There are hundreds of players that could have been chosen," Mackey said. "Thank you to Eurobasket for the awards. Thank you to my coaches, thank you to my organisation for making my first pro season a success, making me so comfortable and making me feel at home even though I'm 5,000, 6,000 miles away."
Mackey made his pro debut last October with 20 points and nine rebounds against La Antigua. He posted four double doubles on the season highlighted by 31 points, 11 rebounds and two blocks in a November matchup against Chatanda.
"Before every game I say a prayer and I ask for strength for stamina. I just ask regardless of what is going on in the game, that I find a way to make the right play. I think I did that.
"I always say it's not just about scoring, I realised what matters most is the success of your team," Mackey said.
"I couldn't have done it without my teammates. I played with some excellent people this season and some people that will be more friends forever. I've been playing organised basketball a little over six years now, this is something I didn't expect and also something that is humbling. I've always had love and support and my family and my closest friends around me. I'm not where I want to be but this is just a good reminder that I'm on the right path in a way. A lot of times you question what's going on in your life, you question if it is the right path you should be taking, you question your decision, this is just a way of saying 'you made the right choice. You put your head down and you work and you don't have to worry about anybody else. Your mouth doesn't have to say a word, just when they look up at that scoreboard let them feel your presence then, that's the attitude I've always had."
Currently in Spain, one of the countries hardest hit by the coronavirus outbreak. has recorded over 229,000 active cases and over 27,100 deaths.
"I haven't been outside many times since the lockdown started, just a couple of times to go to the store, get some snacks and stuff. The club has been providing us with meals so we don't have too many reasons to go outside. Things are obviously not the same," he added.
Mackey said in April:
"It's clearly a serious situation with [the number of cases] out here in Spain right now...
"I'm doing fine, just staying inside listening to what everyone has to say. My advice is to stay inside, take what the officials are saying seriously and just keep your family safe."
A season of milestones for Mackey also included his debut as a member of the Bahamas' senior men's national team.
In the latest window of FIBA AmeriCup Qualifiers the team emerged with a dominant win over Mexico in February.
The Bahamas allowed just eight points in the third and led by as much as 23 en route to a 76-59 win at the Atlantis resort to even the series at 1-1.
The Bahamas is currently second in Group D at 1-1 with the advantage over Mexico on point differential. The USA leads the Group at 2-0 while Puerto Rico is 0-2. The Bahamas will continue to play in Group D on November 27 against the United States in game one of the second window.
He entered pro basketball following a senior season for the Northwestern Ohio Racers when he averaged 16.6 points and 8.9 rebounds per game as a senior.