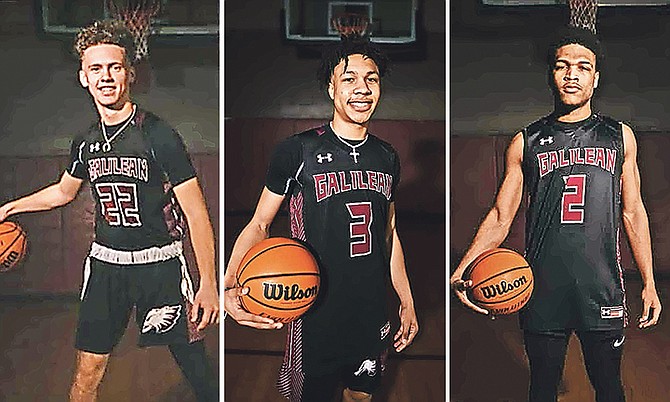 By RENALDO DORSETT
Tribune Sports Reporter
rdorsett@tribunemedia.net
A trio of Bahamian hoop prospects will make the transition as teammates from the prep to the collegiate level.
Jamal Pyfrom, Reagan Roberts and Caleb Burrows will all join the Campbellsville University-Harrodsburg Pioneers basketball programme this fall.
The Pioneers, located in Harrodsburg, Kentucky, compete in the National Christian Collegiate Athletic Association (NCCAA) Division II and finished 8-18 last season. Burrows was the first to commit in late March, followed by Roberts and Pyfrom last weekend.
The trio helped lead the Galilean Christian Academy Eagles in Liberty, Kentucky National Association of Christian Athletes (NACA) Division III National Title and the best regular season record in school history.
Burrows averaged 25 points and five assists last season. He earned National Player of the Year honours with the NACA. Burrows was also a two-time NACA All American and a NAAPS All American.
During his time at Galilean, he reached the 1,000 point club in his senior season after an impressive junior campaign saw Burrows score 528 points in the season.
"Caleb has great vision, athletic ability and is willing to be coached each night," said Pioneers head coach Austin Sparrow. "He is an outstanding young man that has all the intangibles we are looking for to continue building our programme."
The GCA community left positive words of affirmation for the outgoing seniors on their social media page.
Roberts, an Abaco native, is a junior national team standout and member of the Bahamas' historic FIBA Centrobasket Under-17 Championship that won bronze in 2018 and qualified for the Tournament of the Americas.
"Reagan is a brave young man who was obedient to God's timing for his life. Venturing from a small island in the Bahamas, hundreds of miles away from his family, he joined Galilean Christian Academy last fall to pursue his basketball dreams. Reagan has accomplished many things this year, including good grades and college credits along with helping to bring home the championship trophy at the NACA nationals. The past eight months haven't been easy for Reagan and his family as his little island home was hit by the devastating monster Dorian which caused them to lose their homes and businesses. We are so proud that he remained focused and didn't let the trials of this bring him down at the beginning of the school year. He stayed and proved that he can do all things with Christ."
Pyfrom was a former member of the St George's Jaguars programme in Grand Bahama and has also made the most of his lone season completing high school in Kentucky.
"He played from primary school all the way to senior school. One day, the Lord sent an angel (coach Scott) who saw Jamal's talent and gave him a scholarship to the Galilean Christian Academy.
"We knew it was God's plan because I had always told God I would only allow Jamal to go to a Christian School. He will be going to Campbellsville University in the fall to further his education and showcase his talent.
"Shortly after Jamal left for school, we experienced hurricane Dorian. We lost everything (home and business), yet Jamal continued on. He told me, "mommy, don't worry. God's got us. I will be ok."
The Bible says our talents will make way for us.