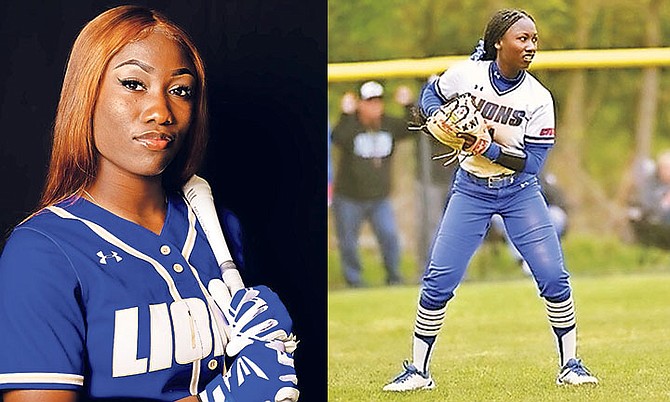 By BRENT STUBBS
Senior Sports Reporter
bstubbs@tribunemedia.net
With one of the most successful resumes as a collegiate female softball player under her belt, Kendalia Turner graduated from Georgian Court University yesterday and now she's heading home for the celebration that was denied in Lakewood, New Jersey.
The 5-foot, 4-inch shortstop for the Lions' ladies softball team had to view the virtual graduation ceremony from Pembroke Pines, Florida, where she stayed with team-mate Lindsey Fischbach. Turner had made the move there two weeks ago to await one of the second set of repatriation flights for Bahamians from Fort Lauderdale to the Bahamas this weekend.
The 21-year-old Turner said she was eager to see how the graduation ceremony unfolded as it was done for the first time virtually online. Nonetheless, she was still thrilled to have received her major degree in business administration and a minor in accounting. Fischbach, whom she shared the moment with, earned her degree in exercise science.
Turner was anticipating having her parents Kendal Sr and Vashti Turner, sister Mia, brother Kendal Jr and other members of her family attend the graduation in New Jersey. But the spread of the coronavirus changed all of the plans as schools were closed and the publicly attended graduation ceremony was called off.
The COVID-19 pandemic also cancelled Turner's senior season, which was her last one and obviously it prevented her from going out in style.
"With this being your last year, you wanted to make it very special, but I didn't have the opportunity to play. So that was sad," Turner said.
Turner noted that she even had to take her classes online and, as an international student, she was limited to just one class at a time. She noted that she managed to get through it, completing her tenure with a 3.5 grade point average and making the Dean's list for the third time.
With some spare time to begin her master's degree, Turner said she's looking forward to heading to Ontario, Canada, once the coronavirus has subsided to complete the MBA programme at the University of Windsor with the hopes of graduating by December 2021.
As a former student-athlete, Turner had an impressive sting with the Lions softball team where she was also captain and won the 2020 Softball Coach's award. They played in the Central Atlantic Collegiate Conference where she was the Student-athlete Advisory Committee vice chair and captain. She was also the two term president of this committee at her school.
During her career, Turner coached a 14-and-under and 16U team with the ruthless softball organisation which is headed by USA softball Olympian Crystl Bustos. She was also manager of the on-campus gym.
As for academics, she received the Academic Excellence Award in Finance and was inducted into the Phi Eta Sigma, Delta Mu Delta, & Chi Alpha Sigma honour societies.
Turner was a NFCA All-American Scholar-Athlete, Arthur Ashe Sports-Scholar, and an NCAA Division II Softball Scholar-Athlete. She received the Division II AD Association Academic Achievement Award and was a three-time selection to the CACC All-Academic Team.
Two of her biggest accomplishments included the New Jersey Association of Intercollegiate Athletics for Women 2020 Woman of the Year award and the Georgian Court University Presidential Award 2020.
Turner's senior year was interrupted in March during spring training after they completed two trips to Florida where they compiled a 6-12 win-loss record. She started in all but one of those games and rotated between lead off, eighth and ninth positions in the batting line-up because of her speed.
"We had lost two of our big batters to injuries and so we didn't have the home run threat that we had when they were in the lineup," Turner said. "Those bigs were important to us. We had to end up trying to win games with the small ball. It took us a while to realise that we couldn't win games without them.
"It was rough at first. We couldn't win as many games as we did before we went into spring training this year. But I still believed that we had the team that could have done well in our conference, if the games had continued to play."
Considered to be a pleasant individual, who has a contagious smile, Turner said she was well-known around the small school campus.
"It was like one big family. Classes were good, just because we had such small classrooms, so I was able to be closer to my professors and the athletic department," she said. "Everyone knew each other. That was what made it such an enjoyable experience for me."
After spending two months locked down on campus, Turner moved to Pembroke Pines with Fischbach two and-a-half weeks ago. She said she purchased her ticket on Bahamasair and took her virus test to ensure that she can be a part of the resumption of the repatriation of Bahamians out of Fort Lauderdale.
She noted that she had arrived there before the first repatriation took place two weeks ago, but missed the cut when the first two flights left for New Providence and Grand Bahama. She's confident that she will make it out today on the first flight, if not she should be back home on the second flight on Saturday.
Once she gets back home, Turner said she has already advised her mother about getting a few items from the food store.
"I'm going to be eating good again," said Turner, who is eager to taste some lamb chops, peas and rice and macaroni. "Once my quarantine period is up, still where you can go out outside, so I will be looking forward to working out with a little bit of softball.
"I had enough sitting down and couldn't move type of thing. So I have to get out and do some things that I couldn't do in New Jersey because of the lockdown."
When the coronavirus started to spread and schools were closed, Turner said while the majority of students were able to go home, which was in the adjacent areas of Philadelphia, Delaware and New York, she decided to stay in New Jersey with the hopes of ensuring that she was in place for her graduation.
"I didn't move right away like the others," she recalled of the coronavirus experience at the beginning in March because she still anticipated that there would have been a formal graduation taking place as originally scheduled.
"There was only about 15 persons on campus and everybody was literally staying to themselves, so I was basically in my room by myself for about two months. It was rough."
When she got the opportunity to travel to Fort Lauderdale to stay with Fischbach, a utility player on the team, Turner said she took advantage of it because it brought her closer to getting back home, even though it still seemed far away. "It's been two and-a-half weeks and I am still not home," she stated. "It's very nice for me to be here with my team-mate in Fort Lauderdale, but at some point, I want to be home."
And to the Bahamian people who have been there supporting her through her journey, Turner said she wants to express her gratitude.
"At first I took it for granted when people were congratulating me, but I realise that I did a big thing representing them," she said. "So I'm just proud to say that I am a Bahamian and I had the opportunity to represent them to the best of my ability while playing softball and pursuing my college degree. Thank you all."
Hopefully, when she can return home on one of the Bahamasair flights this weekend, Turner said she will rekindle her relationship as soon as her quarantine period ends.