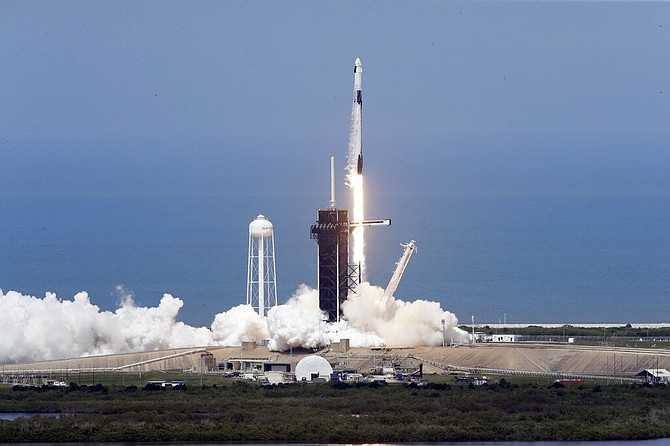 SUNDAY UPDATE (AP): SpaceX delivered two astronauts to the International Space Station for NASA on Sunday, following up a historic liftoff with an equally smooth docking in yet another first for Elon Musk's company.
With test pilots Doug Hurley and Bob Behnken poised to take over manual control if necessary, the SpaceX Dragon capsule pulled up to the station and docked automatically, no assistance needed. The hatches swung open a few hours later, and the two Dragon riders floated into the orbiting lab and embraced the three station residents.
Unlike the SpaceX and NASA flight control rooms, where everyone was spaced well apart, there was no social distancing or masks needed in orbit since the new arrivals had been in quarantine for many weeks.
SATURDAY'S NEWS:
By MARCIA DUNN AP Aerospace Writer
CAPE CANAVERAL, Fla. (AP) — A rocket ship built by Elon Musk's SpaceX company thundered away from Earth with two Americans on Saturday, ushering in a new era in commercial space travel and putting the United States back in the business of launching astronauts into orbit from home soil for the first time in nearly a decade.
NASA's Doug Hurley and Bob Behnken rode skyward aboard a white-and-black, bullet-shaped Dragon capsule on top of a Falcon 9 rocket, lifting off at 3:22 p.m. from the same launch pad used to send Apollo crews to the moon a half-century ago. Minutes later, they slipped safely into orbit.
"Let's light this candle," Hurley said just before ignition, borrowing the historic words used by Alan Shepard on America's first human spaceflight, in 1961.
The two men are scheduled to arrive Sunday at the International Space Station, 250 miles above Earth, for a stay of up to four months, after which they will come home with a Right Stuff-style splashdown at sea, something the world hasn't witnessed since the 1970s.
The mission unfolded amid the gloom of the coronavirus outbreak, which has killed more than 100,000 Americans, and racial unrest across the U.S. over the case of George Floyd, the handcuffed black man who died at the hands of Minneapolis police.
NASA officials and others expressed hope the flight would lift American spirits and show the world what the U.S. can do.
"We are back in the game. It's very satisfying," said Doug Marshburn, of Deltona, Florida, who shouted, "USA! USA!" as he watched the 260-foot rocket climb skyward.
SpaceX becomes the first private company to launch people into orbit, a feat achieved previously by only three governments: the U.S., Russia and China.
"This is something that should really get people right in the heart of anyone who has any spirit of exploration," Musk, the visionary also behind the Tesla electric car company, said after liftoff, pounding his chest with his fist.
The flight also ended a nine-year launch drought for NASA. Ever since it retired the space shuttle in 2011, NASA has relied on Russian spaceships launched from Kazakhstan to take U.S. astronauts to and from the space station.
Over the past few years, NASA outsourced the job of designing and building its next generation of spaceships to SpaceX and Boeing, awarding them $7 billion in contracts in a public-private partnership aimed at driving down costs and spurring innovation. Boeing's spaceship, the Starliner capsule, is not expected to fly astronauts until early 2021.
NASA plans to rely in part on commercial partners as it pursues it next goals: sending astronauts back to the moon within a few years, and on to Mars in the 2030s.
At a post-liftoff rally held at NASA's massive 525-foot-high Vehicle Assembly Building, President Donald Trump commended Musk and proclaimed: "Today we once again proudly launch American astronauts on American rockets, the best in the world, from right here on American soil."
He vowed the U.S. will be the first to land on Mars, promising a "future of American dominance in space."
Vice President Mike Pence, who also witnessed the launch, said that as the nation deals with the coronavirus and racial strife, "I believe with all my heart that millions of Americans today will find the same inspiration and unity of purpose that we found in those days in the 1960s" during Apollo.
The first attempt to launch the rocket, on Wednesday, was called off with less than 17 minutes to go in the countdown because of lightning. On Saturday, stormy weather threatened another postponement for most of the day, but the skies began to clear just in the time.
The astronauts set out for the launch pad in a gull-wing Tesla SUV after Behnken pantomimed a hug of his 6-year-old son, Theo, and said: "Are you going to listen to Mommy and make her life easy?" Hurley blew kisses to his 10-year-old son and wife.
Nine minutes after liftoff, the rocket's first-stage booster landed, as designed, on a barge a few hundred miles off the Florida coast, to be reused on another flight.
"Thanks for the great ride to space," Hurley told SpaceX ground control. The two crewmates batted around a floating blue dinosaur plush toy doubling as a dragon, demonstrating that they had reached zero gravity.
SpaceX controllers at Hawthorne, California, cheered and applauded wildly, and NASA Administrator Jim Bridenstine declared: "This is everything that America has to offer in its purest form."