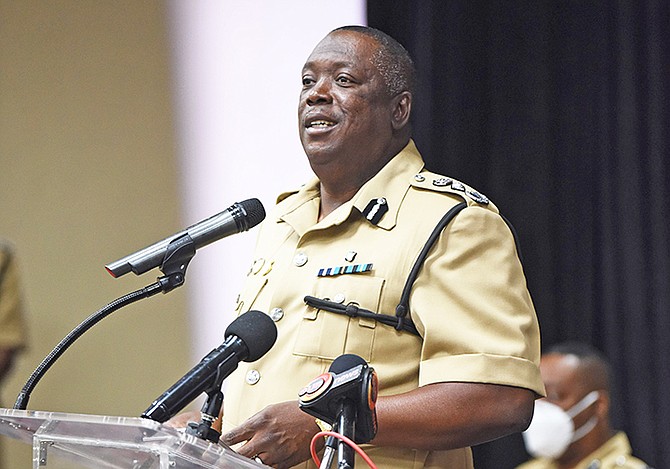 By RASHAD ROLLE
Tribune Senior Reporter
rrolle@tribunemedia.net
POLICE Commissioner Paul Rolle said police have cited the organisers and attendees of a large gathering in Bimini over the weekend because they broke COVID-19 rules.
A 13 second video of the event circulated yesterday showing dozens of people without masks bunched together on a beach as music played in the background.
The apparent DJ of the event said: "It's after 12, Bimini ain ('t) on no curfew. Nassau on curfew. It's after 12 we in Bimini. Bimini sweet too, sweet bad bad."
Yesterday, Commissioner Rolle said authorities have taken action in the matter.
"Superintendent Moss and the team on Bimini have issued a number of citations for that event in contravention of the emergency orders," he said when contacted. "I believe it was (Saturday) night when that happened and they were planning another event tonight and we were able to stop that. The organisers were cited and a number of other persons were cited as well."
Prime Minister Dr Hubert Minnis has repeatedly warned residents against large gatherings because of the ability of COVID-19 to quickly spread at such events.
"While I am pleased that most Bahamians are listening to the public health advice, a number of us are still engaging in high-risk behaviour such as getting together for parties," he said recently.
"I want to again discourage large social gatherings and parties. We are able to relax or we must implement more restrictive measures depending on what we do together to limit the spread of COVID-19, which you see from the news is still very much out of control in many countries of the world."
Authorities have been fining people $500 for failing to socially distance and it is not uncommon for violators to receive more than one citation for breaking various COVID-19 rules.
To date, Bimini has recorded 63 confirmed COVID-19 cases, more than any other island except New Providence, Grand Bahama, Abaco, Eleuthera and Exuma.
The country's first confirmed COVID-19 death was recorded on Bimini and that island experienced the strictest lockdown of any island in the country to date when, for two weeks in May, all agencies, businesses and establishments were ordered to close except law enforcement agencies, the clinic, the island administrator's food distribution team and healthcare workers conducting home visits to those needing medical or therapeutic care.
Bimini last recorded a case of COVID-19 on November 11th. Two cases were confirmed that day.