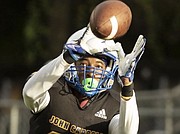 By RENALDO DORSETT
Tribune Sports Reporter
rdorsett@tribunemedia.net
PRINCE Strachan and his John Carroll Catholic High School Golden Rams will continue their season after a thrilling finish in the first round of the Florida 2-3A regional playoffs.
Strachan finished with four receptions for 62 yards and one touchdown in John Carroll's 33-27 win over First Academy.
As time expired on the final play of the game, Golden Rams' quarterback Jay Allen heaved a desperation Hail Mary that was tipped by a First Academy defender and eventually corralled by receiver Aiden Singleton for the game-winning 54-yard touchdown.
John Carroll head coach Mickey Groody told the Treasure Coast Palm Post that he originally drew the play up for Strachan with the other receivers as a contingency plan.
"I called all go-routes, a Hail Mary and I told Prince (Strachan) to be the only one to jump up and try to catch it on his own and I wanted the rest of the guys to circle around and look for a tipped ball and it's the best play I called all night."
Strachan's late touchdown catch in the first half gave the Rams a 21-7 lead at the break. They eventually took a 27-7 lead before the Royals rallied to tie the game at 27 in the fourth quarter, setting the stage for the late-game heroics.
John Carroll will go on to face Holy Trinity in the 2-3A regional semifinals on November 20.
For the regular season, Strachan finished with a team-leading 30 receptions for 552 yards and seven touchdowns. His yardage and touchdown totals were second on the team.
Strachan continued to progress during the season and caught touchdowns in five of the last six games. He also finished with two multi-touchdown games, three games with at least 80 receiving yards, and four games with at least four receptions.
His standout junior season earned him an invitation to the Georgia versus Florida High School Showcase, January 16-18 at Feltrim Sport Village in Orlando, Florida.
The event features the top athletes from both states to battle for bragging rights and showcase their talent for a myriad of college scouts and coaches.
Strachan relocated from Grand Bahama to John Carroll following Hurricane Dorian last year. He played sparingly as a sophomore and the Rams were high on his prospective impact headed into this season.
Prince is the younger brother of University of Charleston Golden Eagles All-American wide receiver, Mike Strachan.
Thus far the younger Strachan has already received an offer from the Golden Eagles.
Mike Strachan was recently listed among Yahoo! Sports' top "small school" prospects for the 2021 NFL draft and a preseason All-American.