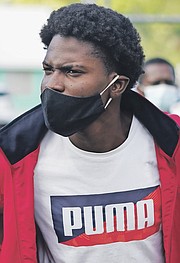 A 20-year-old man was remanded to prison yesterday accused of murdering a man and attempting to kill two others earlier this month.
Omar Daniels was arraigned before Senior Magistrate Derrence Rolle-Davis yesterday for the November 4 murder of Dwight Williams while being concerned with others.
He was also charged with two counts of attempted murder after officers accused him, along with others, of trying to kill Laurent Harrison and Kareem Maynard on the same day.
According to initial reports from police, a group of people were gathered at a residence on Peters Street on Nov 4 when a small vehicle approached them.
Two men got out of the vehicle and fired gunshots in their direction, resulting in a man being killed and four others injured. Police said they were alerted to the shooting incident shortly after 7pm on the day in question.
During yesterday's hearing, Daniels was not required to enter a plea to the charges and the case was adjourned to February 3 for service of a voluntary bill of indictment.
Bail was also denied and he was remanded to the Bahamas Department of Correctional Services in the interim. He has the right to apply to the Supreme Court for bail.