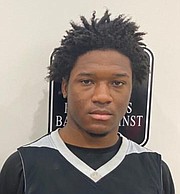 By BRENT STUBBS
Senior Sports Reporter
bstubbs@tribunemedia.net
DEYTON Albury continues to guide his Believe Prep Basketball team to an undefeated preseason.
On Sunday, Believe pulled off as double header to improve their record to 5-0 in the midst of the coronavirus pandemic in the Phenom Open Run in Rock Hill, South Carolina. They added to the three victories they posted a week ago as Albury made his collegiate debut after graduating from Sunrise Christian Academy in Bel Aire, Kansas.
In the first game this weekend, Albury, the talented guard, only played the second half against Meridian Prep because he had to take his regular Covid-19 test.
He still managed to score ten points as they won 61-41.
In the second game, Albury once again came through with 12 points as Believe easily won 58-37 over Team Vision.
"This is really crazy. Again, this is only our second week of practice and our second dominant weekend," Albury said. "We are blowing out teams and we haven't even had full practices yet.
"Chemistry wise, it's crazy. We are coming out and just blowing teams in front of us. I never saw anything like this before. I never thought I could see something like this. All of us are just getting to know each other, but for some reason, the chemistry is just clicking."
This weekend, Albury and Believe will be heading to Orlando, Florida where they will play in the All-American Jamboree, a tournament they expect to get their first real test, playing against teams that are expected to feature players who have already signed for their respective division one schools.
"This is supposed to be a high level tournament with some big teams in every game that we play," Albury noted. "This is supposed to be a high level tournament or us, but I expect us to perform very well.
"We re going to the underdogs because a lot of people are not expecting us to win any games, so that alone should be the motivation for us. We want to make a name for ourselves with a lot of college coaches coming in."
For Albury, if there's specific that he will have to concentrate a little more on to impress the scouts. it's his jump shot.
"I have to get to my spot and be able to shoot the ball. That's one of the reasons why I didn't get my college offers yet," Albury said. "The coaches want me to be able to shoot the ball more. I can dominant going to the basket, but they want me to be able to shoot the ball more."