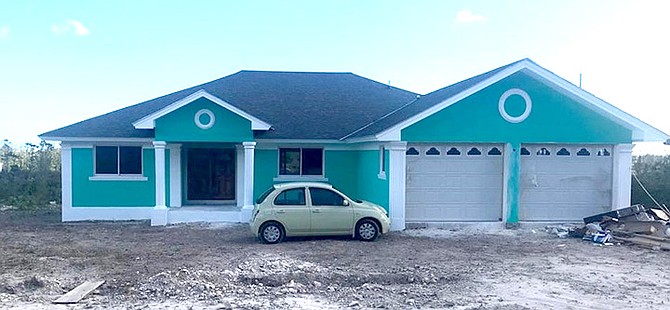 By BRENT STUBBS
Senior Sports Reporter
bstubbs@tribunemedia.net
AS an incentive of winning the gold medal at the 2012 Olympic Games in London, England, the Golden Knights were presented with a parcel of land by the Bahamas government, just as the Golden Girls did following their triumph at the 2000 Olympics in Sydney, Australia.
But unlike the other members of those teams, quarter-miler Ramon Miller is the only one so far to develop his plot, building his dream house. But unfortunately with the house completed, Miller is unable to get his family to reside in the complex because there's on infrastructure in place.
"I've written to both prime ministers (Perry Christie and Hubert Minnis) and I have letters confirming this and confirming that, but even in writing to our former BAAA president Desmond Bannister, nothing has commenced.
"I really appreciate the land they gave us. I've put something on it, but as a Bahamian, I've taken the initiative to spend a great deal of money building the home and I've given them the documents to show that I want to move my family into our home."
Bannister, the Member of Parliament for Carmichael and the Minister of Works, confirmed that they are in receipt of Miller's documents and are preparing to provide the necessary infrastructure, including light and water and the paving of the road, on the property located in Lake Killarney Shores in Tropical Gardens.
Pauline Davis-Thompson, a member of the Golden Girls' team of Savatheda Fynes-Coke, Chandra, Debbie Ferguson-McKenzie and Eldece Clarke, said one of the reasons they were also not able to build anything on the property was because of the fact that they don't have the necessary infrastructure in place.
Miller, who anchored the team of Chris 'Fireman' Brown, Demetrius Pinder and Michael Mathieu to the gold at the Olympic Stadium in London over silver medalists United States and bronze medalists Trinidad & Tobago, said he's the only one to occupy the land, but he just want to take possession of his new home.
"It's sad that I have to write about it, but this seemed to be the only recourse I have left and that is to bring it to the public forum," he stated. "I don't want to do this, but I need to get it done because I really want to move in."
Miller, a 2010 graduate of Dickinson State University, who has been employed on the Royal Bahamas Police Force for the past two years, said he started building on the property from 2016 and he had it completed at the end of 2019.
"It's completed and I just don't want it to be sitting there like a duck," he stated. "I was even willing to pay for the infrastructure to be put in place, but they advised me that the government is responsible for putting it in. They even gave me my money back.
"I went through all of the proper channels and nothing has been done. I'm the only athlete here, who is pushing it. The government gave us a gift to try and help us out. All I need for them to do is to put the infrastructure in place so I can move in."
As he's also taking the time out to train for his final Olympics in 2021 in Tokyo, Japan, Miller said it would be a burden lifted off his shoulders if he can secure his occupancy in his new home.
"I would be much more comfortable with my training," he said. "My main goal is to get my family into our home so they can be comfortable. My place of comfort is right here at home, so I just want to be here and set an example that as I Bahamian, I can do it here at home."
Miller, 33, graduated from DSU in Dickinson, North Dakota with a bachelor of science in exercise physiology and coaching. He was scheduled to be inducted into the Hall of Fame on October 9, but the event has been postponed until 2021.
He enjoyed a phenomenal four-year stint that saw him emerge as the most decorated athlete in NAIA track and field history, having won multiple national titles in the 200 and 400m and setting the NAIA national record holder in the 400m.