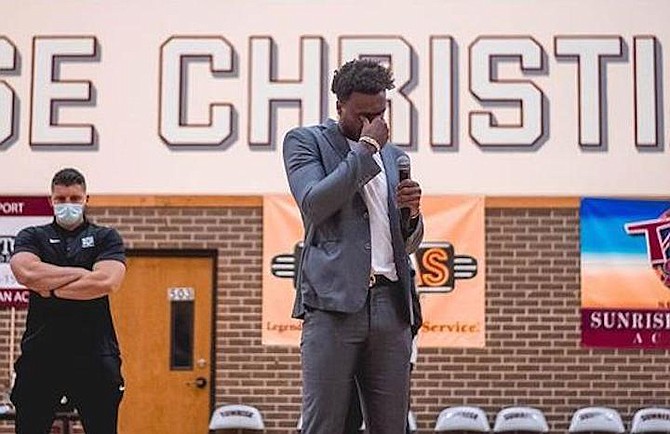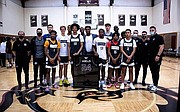 Chavano "Buddy" Hield was honoured by the programme where he concluded his high school career, a place vital on his journey toward NBA stardom and a place he calls his second home.
The Sunrise Christian Academy Buffaloes retired Hield's No.24 jersey at a ceremony to conclude the programme's "Sunrise Madness" event in Wichita, Kansas.
An emotional Hield addressed the group of past and present Buffaloes as he reflected on his time at the school and how it shaped his future.
"Who would have thought 10 years later I'd come back to Sunrise and get my jersey retired. Sounds crazy but it's a blessing to be here," Hield said. "Thank you to coach Kyle, coach [Robert] Linstead, Luke [Barnwell] you know the whole Sunrise family. Without them none of this is possible. It's home. Every time I come in it's always home. There's great blessings."
The Sunrise coaching staff has attended the Darell Sears Showcase in Grand Bahama since the early 2000s and recruited several Bahamian prospects. Then Sunrise head coach Kyle Linstead first saw Hield at the event in 2010 and offered him a scholarship to become the next Bahamian with an opportunity to join the programme.
"If I had to do it all over again, I would come back here," Hield said.
"We all have a different story - rich, poor, black, white, it doesn't matter...use that as motivation."
Following his time with the Jack Hayward Wildcats in Grand Bahama, Hield played for the Buffaloes from 2011-2013 before spending his NCAA career with the Oklahoma Sooners.
In his first season at Sunrise, Hield averaged 17.4 points, 4.6 rebounds, and 2.2 assists while shooting 45 percent from three-point range. He also led the team to a 24-4 record and a National Association of Christian Athletes national championship.
Hield was named tournament MVP. In his senior season, Hield emerged as a four-star prospect when he averaged 22.7 points, four rebounds, 2.9 assists, and 2.3 steals in 21 minutes per game. He shot 49 percent from the field, 84 percent from the free throw line, and 35 percent from three-point range with 2.9 makes per game. Over the last five games, he upped his average to 30 points per game en route to his team's 23-4 record.
Hield was one of several players in the pipeline from The Bahamas to Sunrise Christian that also featured several eventual Division I talents, including Lourawls Nairn Jr (Michigan State), Nathan Bain (Stephen F Austin), Travis Munnings (Louisiana-Monroe), and Radshad Davis (UT-Arlington/FIU) among others.
"Being there changed my life," Hield said of his time at Sunrise to the New York Times in a 2016 feature during his senior season at Oklahoma. "They gave me the opportunity to come to America and play basketball."
The fifth year Sacramento Kings guard and reigning NBA Three-Point champion has gone on to become the most star studded alum in programme history.
Hield's senior season with the Sooners concluded with a litany of awards, including the John R Wooden, Naismith and the Oscar Robertson Player of the Year trophies.
He was also named to the National Association of Basketball Coaches first-team, a first-team All-American by the United States Basketball Writers Association (USBWA), Sports Illustrated, and USA Today.
His list of honours also included the Sporting News Player of the Year, USBWA District VI Player of the Year, CBS Sports Player of the Year, Big 12 Player of the Year, and the All-Big 12 first-team.
The New Orleans Pelicans chose the Grand Bahamian native with the No.6 overall selection in the 2016 NBA Draft and he was traded to the Kings in February of 2017.
Over the course of his 5-year NBA career, Hield has averaged 15.9 points per game and shot 41 percent from three-point range.
Despite his achievements on the court, Sunrise founder Robert Linstead said Hield's greatest strength lies in the impact he has off the court in other aspects of life.
"I think basketball is the connecting arm to lots of things in life. And I think life is bigger than basketball.
"What I hope that we give these kids when they leave here is a passion to develop whatever skill they've got," he told the New York Times.
"In Buddy's case, it's basketball. But Buddy's strong suit isn't basketball. Buddy's strong suit is Buddy."