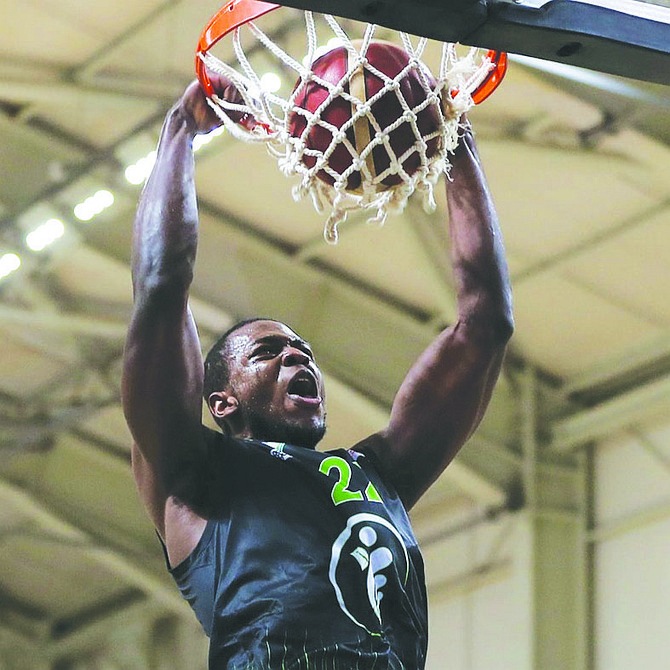 AFTER a strong preseason, Dwight Coleby made his 2020 debut in the Turkey Basketball League.
Coleby finished with a double double - 19 points and a game high 14 rebounds - for Merkezefendi Belediyesi Denizli in their 86-85 loss to Gemlik in their season debut.
The veteran forward dominated on both ends of the floor and shot 7-10 from the field, including extending his range to shoot 1-2 on three pointers to begin his second stint in Turkey.
In the preseason's Turkey Federation Cup, Coleby averaged 13.8 points and 8.2 rebounds per game as Denizli completed Group D atop their division and advanced to the semifinal.
They were eventually eliminated by his former club, Sigortam.net, 89-80. Coleby finished with nine points and five rebounds.When the regular season resumes, Coleby and his club will have a rematch against Sigortam.net in their next game, October 31.
The TBL is the second tier league in the country. The league features 16 teams and the first place finisher is promoted to the top tier Turkish Basketball Super League.
Teams are ranked 2nd place to 9th place, compete in playoff format and the winner of the playoff also promotes.
The last two teams are relegated to the third tier Turkish Basketball Second League.
In his first stint in Turkey in 2018, Coleby averaged 11.5 points and a team leading 8.5 rebounds for Sigortam.net ITU in the BSL League.
Prior to the COVID-19 pandemic, Coleby spent approximately a month of the previous season in Italy's Lega Basket Serie A with perennial league contender Dinamo Banco di Sardegna Sassari.
His last game with the club was on March 10 when he scored 11 points in a loss to San Pablo Inmobiliaria Miraflores Burgos in the quarterfinals of the Champions League.
After he signed with the reigning European Cup Champions in February, he appeared in just three regular season games and five Champions League games where he averaged 4.8 points and 4.2 rebounds per game.
Coleby spent a portion of the 2019-20 season alongside his brother Kadeem Coleby with the Akita Northern Happinets in the Japanese B-League following a short stint in Belgium with Liege Basket in Belgium's Pro Basketball League (PBL).
He also spent time with Kalev/Cramo (KML) in the Estonian league.