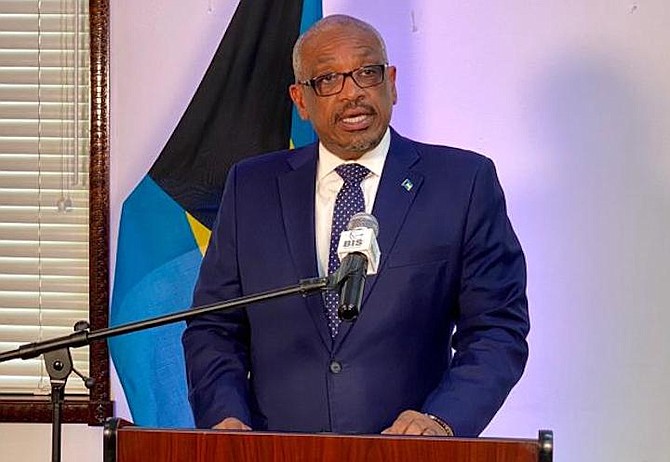 BY DENISE MAYCOCK
Tribune Freeport Reporter
dmaycock@tribunemedia.net
With a 75 percent drop in COVID-19 infections reported on Grand Bahama, Prime Minister Dr Hubert Minnis commended Grand Bahamians for their "community spirit, sacrifice and discipline" which have resulted in significantly reducing the spread of coronavirus on the island.
Dr Minnis thanked the people of Grand Bahama for their cooperation during the lockdowns, and said their sacrifice made a "tremendous difference".
"I came here to personally thank the people of Grand Bahama for your cooperation during the various lockdown periods, he said on Monday at a press conference at the Office of the Prime Minister in the Harold DeGregory Government Complex.
"Your actions and community spirit made an extraordinary difference in arresting the community spread of COVID-19.
"Thank you for your sacrifices; thank you for your determination; thank you for your resilience during this most difficult time. I know it has been very hard for so many people. But your sacrifices and discipline have made a tremendous difference."
The PM stressed residents must keep following the rules: washing and sanitizing hands regularly, wearing of masks properly over the nose and mouth, practising social distancing and not attending mass gatherings.
"COVID-19 will be part of our lives for some time. We have to learn to live with it," he said.
"We must strike the responsible balance between keeping our economy open and practicing the public health measures, so the spread of the virus is kept as low as possible," explained Dr Minnis.
Keeping the virus suppressed, he said will bring about more normalcy to the lives of Bahamians.
While in GB, the PM also announced updates to the ongoing and phased reopening of the country and the economy, including a number of changes to the Emergency Orders.
A number of amendments to the Emergency Orders will apply to all islands in the Second Schedule, except for New Providence, where work is still needed to lower the community spread of COVID-19. 
These changes apply to Grand Bahama, Abaco, Acklins, Andros, the Berry Islands, Bimini, Cat Island, Crooked Island, Eleuthera, Exuma, Inagua and Mayaguana.
Dr Minnis said businesses, agencies, establishments and institutions will be able to operate subject to the safety protocols, with few exceptions that are high risk activities.
The high-risk prohibited businesses, he noted, continues to be casinos, bars, discos, cinemas, gyms, regattas, festivals and similar activities.
According to the new amendments, retailers will be able to offer in-store services. Restaurants can now offer indoor dining services, provided they follow the physical distancing, mask wearing and sanitization protocols in the Orders.
Fish Fry establishments will continue with take away and curbside services only.
Said the PM: "The changes announced today mean that businesses that had not been permitted to open or that were opened with restrictions may now operate, following the public health measures. They may determine their operating hours, operating from 5 am until 10 pm, except for New Providence."
Dr Minnis stressed the risk of spreading COVID-19 is higher with regard to indoor activities, and lower in regard to outdoor activities. This, he explained, is the reason why they have continued to make certain distinctions in terms of outdoor and indoor activities.
In terms of social gatherings in keeping with these distinctions, he stated residents on all islands in the second schedule, except for New Providence, may have small social gatherings of up to a maximum of 10 people in a safe manner. 
All islands in the Second Schedule, including New Providence, will also now be able to exercise outdoors in their neighborhoods from 5am to 10pm.
Outdoor group exercise between 5am and noon is permitted for residents on all islands, including New Providence.
Beaches and Parks will now be open for slightly extended visiting hours from 5am to 12noon for residents on all islands, including New Providence.
Additionally, the PM announced a number of amendments that apply to the entire country, regarding inter-island travel.
According to Dr Minnis, charters are now allowed, including inter-island charters, provided that individuals comply with the inter-island travel Orders.
Inter-island commercial air travel may resume as normal on Wednesday, September 9, he said.
"COVID-19 negative test results are no longer required for inter-island travel, except for those travelling from New Providence," noted the Prime Minister, who said it is subject to change.
However, those individuals travelling from the islands included in the second schedule, including Grand Bahama, will continue to be required to quarantine for 14 days upon arrival at their destination.
The Prime Minister also stated a COVID-19 RTPCR negative test result must be obtained if individuals travel to New Providence and seek to return to any other island.
On the matter of private medical facilities and dentists, they are now able to provide services outside of the curfew hours, and medical services during the curfew hours in an emergency.
Regarding worship services, Dr Minnis indicated that in sanctuary services are permitted for New Providence, following the health measures and guidelines for such services. 
"Let me also thank all of the public and private officials, including medical and security personnel, feeding networks, businesses, officials at OPM (Grand Bahama) and others who worked in a spirit of unity. It is with enormous gratitude and admiration, that I thank all of you.
Dr Minnis expressed concern over those who continue to participate in "high-risk behaviour" by having parties.
He stressed that wearing masks in public places is mandatory for persons while in public on every island and noted that the police will be enforcing these measures, including issuing tickets for those in violation. 
In relation to construction sites, he warned that the police will be monitoring sites to ensure mask wearing protocols are being followed by all construction workers.
Dr Minnis said construction operations will now be fined for non-compliance with the Orders related to mask wearing and other physical distancing protocols established by the Bahamas Construction Association as approved by the Ministry of Health.
The Prime Minister offered condolences to the families of all those who have lost loved ones because of the deadly virus.
He said the country must continue to pray for all of those in hospital or at home who are ill and those recovering from the virus.
"I want to thank the health care and medical officials who have been on the frontline of this battle from the beginning of the pandemic," he said. They too have demonstrated the spirit of "we should". They are the face and the spirit of courage and resilience."
Dr Minnis said: "We are able to relax or we must implement more restrictive measures depending on what we do together to limit the spread of COVID-19, which you see from the news is still very much out of control in many countries in the world."
He noted there are a number of very ill people in the hospitals. "This virus has lasting effects, some of which we still do not know about and which may do damage for a long time or lifetime. This is why I keep asking you to be safe and to take care of yourselves," he said.