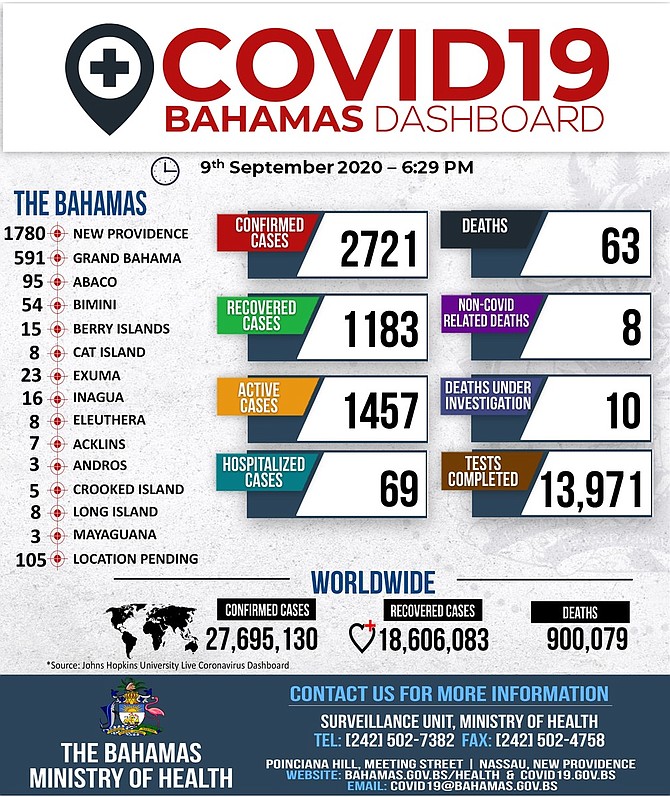 SIXTY-FOUR additional COVID-19 cases were recorded yesterday, bringing the total to 2,721, according to the Ministry of Health.
There are 1,780 confirmed cases in New Providence; 591 in Grand Bahama; 95 in Abaco; 54 in Bimini; 23 in Exuma; 16 in Inagua; 15 in the Berry Islands; eight cases each in Cat Island, Eleuthera and Long Island; seven in Acklins; five in Crooked Island and three each in Andros and Mayaguana. There are 105 confirmed cases with "locations pending".
Of the newest cases, 55 are in New Providence, two in Grand Bahama, three each in Crooked Island and Inagua while there is one new case in Mayaguana.
Earlier yesterday, officials said 72 cases had been recorded on Tuesday along with four COVID-related deaths.
The deaths include a 46-year-old New Providence woman, who died on August 31; a 71-year-old New Providence woman who died August 26; a 61-year-old Exuma man who died on August 30 and a 63-year-old New Providence woman who died August 26.
An additional non-COVID related death was also confirmed in Tuesday's data.
"This reduces the number of deaths under investigation to ten, increases the non-COVID related deaths to eight, and the death toll now stands at 63," the ministry said.
Officials said 13,971 tests have been completed to date.