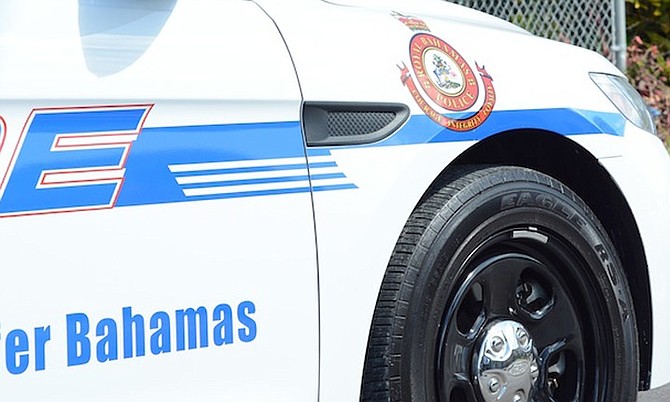 By EARYEL BOWLEG
Tribune Staff Reporter
ebowleg@tribunemedia.net
THREE people are in hospital after separate shooting incidents on Wednesday.
In one incident a woman driver suffered gunshot wounds after trying to flee a roadside robbery on Wednesday night.
The woman motorist was with a male passenger when they were stopped at traffic lights at the junction of Blue Hill and Carmichael Roads just before 9pm.
Police said they were waiting for the lights to change so they could move off when two men on a motorbike pulled up in front of them.
"One of the men dismounted the bike armed with a firearm, he approached her and demanded that she exit the vehicle," police reported.
"On seeing the assailant, she drove off hitting the rider who remained on the bike.
"However, the gunman discharged the firearm in her direction, moments later the driver realized that she was shot several times.
"She was transported to hospital via Emergency Medical Services where her condition is listed as guarded."
Police also reported that around the same time a man was riding his motorcycle east along Wulff Road near the Rubis gas station when he came alongside two men on another motorbike.
"As he attempted to overtake the cycle, the passenger produced a firearm and discharged it in his direction hitting him several times before he was able to evade them," police reported.
"The victim was assisted to hospital via a private vehicle where he is detained and is listed in a stable condition."
One man was arrested in relation to the robbery in which the woman driver was injured.
Earlier on Wednesday a man was walking on Beautmontia Avenue, Garden Hills, around 1pm when he heard the sound of gunshots. Moments later he realised he'd received injuries to his right foot. He was taken to hospital and is in stable condition.
Police press liaison officer Assistant Superintendent Audley Peters said police are concerned about recent violent crimes.
"We are concerned that we're seeing a number of these incidents that are occurring and we are vigilant in doing what's necessary to ….also capture the culprits who would've been perpetrating some of these incidents."
He asked people to come forward with information that could lead to arrests.
"If they see anything to report it to police, if they believe that something occurred or heard that something occurred so that whatever evidence that they pass on to us could assist us in capturing the criminals who are perpetrating these offences."
Anyone with information can call 502-9991 or 328-TIPS.