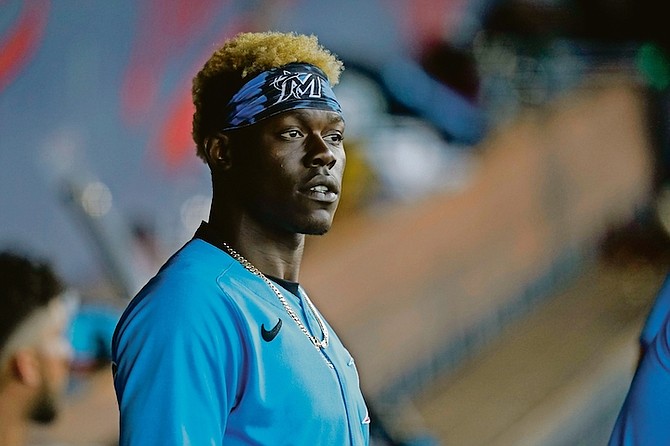 By RENALDO DORSETT
Tribune Sports Reporter
rdorsett@tribunemedia.net
Miami Marlins manager Don Mattingly has high expectations for Jasrado "Jazz" Chisholm's career trajectory and his new starting second baseman was one of several talking points yesterday at the newly renamed LoanDepot Park.
Mattingly said Chisholm's character, in addition to his on-field production, can lead to superstar potential.
That journey begins in earnest today when the Marlins host the Tampa Bay Rays in the season opener this afternoon at 4:10pm in LoanDepot Park.
"There's nothing better than to get through it. Some things you just have to experience, it's more about staying steady, it's more about staying steady," Mattingly said when asked about Chisholm.
"He's a really confident kid, plays with a joy that I love. He's got a smile on his face, high energy, and high talent. This guy is capable of doing a lot. He's one of those guys that, once he puts his whole package together, this is a superstar. This isn't like a good player, he has a chance to be a great player and that's what will help Jazz walk through it day in and day out." Following the final Grapefruit League game of spring training, Mattingly and general manager Kim Ng told the organisation's No.4 prospect that he would be named the starter at second base.
In Spring Training, Chisholm hit .268 with three home runs and four stolen bases.
In 21 games last season, Chisholm hit .161 with a .563 OPS a .242 OBP, nine hits, two home runs, nine runs, six RBI, and two stolen bases. In his debut MLB season, the 23-year-old infielder started 17 games, 11 at second base.
Chisholm's series of career milestones in 2020 was highlighted by becoming just the seventh Bahamian to play Major League Baseball. He received his major league callup in September and his ensuing performance for the remainder of the season became the biggest Bahamian sports story in a year obstructed by the COVID-19 pandemic.
He is currently listed as the Marlins' No. 4 prospect and No. 66 on MLB Pipeline's Top 100 list.
The Marlins were one of the most improbable stories in the 2020 season. They were the worst team in the National League a season ago at 57-105 and returned in 2020 to finish 31-29 for their first winning season since 2009 and earned their first playoff berth since 2003. Once they reached the postseason, the No.6 seeded Marlins advanced with a two game sweep of the No.3 Chicago Cubs in the Wild Card round before they were eliminated by the Atlanta Braves in the NLDS.