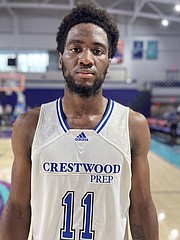 By RENALDO DORSETT
Tribune Sports Reporter
rdorsett@tribunemedia.net
ROMAD Dean and his Crestwood Prep Lions (Ontario, Canada) finished third at one of the most prestigious winter tournaments on the prep basketball circuit in the United States.
The Lions finished the City of Palms Classic in the win column and finished third in the Signature Series bracket with a 68-56 win over Victory Prep (Bradenton, Florida).
Dean finished with 22 points, 11 rebounds, two assists, three steals and two blocked shots in the finale.
Crestwood was defeated 92-68 by Combine Academy (Lincolton, North Carolina) in the semifinals but Dean finished with 29 points and 12 rebounds while shooting 64 percent from the field.
He averaged 25.5 points and 11.5 rebounds per game for the tournament.
AZ Compass Prep (Chandler, Arizona) eventually won the signature series bracket with a 58-43 win over Combine Academy.
The City of Palms Classic was established in 1973 and has grown and expanded its scope to include many of the nation's finest players and teams.
The event traditionally features elite programmes and some of the top prospects in all of high school basketball.
A total of 75 tournament participants were on NBA rosters at the start of the 2019-2020 season.
The Lions were sidelined during the entire COVID-19 pandemic in the North York section of Toronto, but won the Ontario Federation of School Athletic Associations championship in 2019-20.
Despite a lack of league play, Dean has travelled to the United States to participate with the Lions and at the AAU level with Adidas Grassroots Elite.
Dean was profiled by Rivals. com to expand on his recruitment that has now featured several teams currently ranked in the Associated Press Top 25 rankings. A 6'7" wing, Dean said his plan is to declare early and spend his senior season focused on his on court production.
"I am trying to go on official visits this summer, I would like to commit early so I don't have to worry about any recruiting stuff during my senior year," Dean said.
"I will be looking closely at the school's academics first and foremost, without the academics I won't be able to play basketball and go far with it. I want to go to a school where the guys play hard and go to a programme where the style fits me and I have a defined role with what I do. I want to play pro basketball, so a school who will help me get there."
Dean averaged 14.1 points, 13.6 rebounds and 1.3 blocks per game in his last season with the Lions. He led the team in both rebounds and blocks but is looking to diversify his game once play can resume.
"I have always been a tremendous rebounder, I am long and athletic. I can score the ball off the dribble and I am shooting the ball well," Dean said.
When the calendar flipped to 2020, Dean concluded the second half of the Ontario Scholastic Basketball Association season with a series of dominant performances for the Lions which included double doubles in six of seven games.
He totalled 25 points and 14 rebounds against Lincoln Prep on January 7, followed with 25 points and 19 rebounds against Father Henry Carr on February 6, posted 24 points and 18 rebounds on February 19 against the Athlete Institute and concluded with 22 points, 14 rebounds, three steals and four blocked shots in the regular season finale against Ridley College.
He concluded the Lions' playoff run with 26 points and 18 rebounds in a 94-80 loss in the OSBA quarterfinals. He shot 10-12 from the field and 3-4 from three-point range.
Dean also went on to help lead the Lions to win the Ontario Federation of School Athletic Associations Boys Basketball AAA Gold medal in March.
He was also nominated for Canada's premier prep basketball showcase as one of 198 players named to the BioSteel All Canadian Games - 2020 Boys Nominees List.