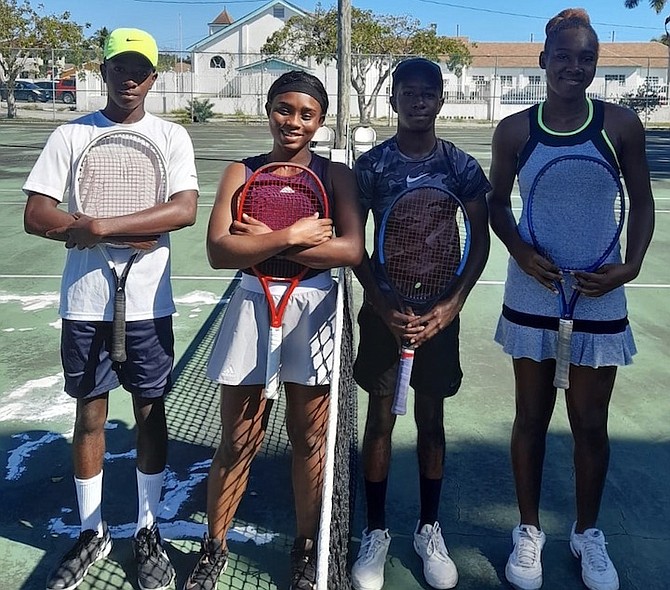 AFTER two exciting weekends of action during the Christmas break, the Southwest Tennis Club Holiday Tournament came to a resounding conclusion on Monday at the Flamingo Gardens Community Centre tennis court.
Tournament organiser Michael Butler, assisted by Julian Robinson, said the tournament was to continue the promotion of community tennis in New Providence and the Family Islands.
In accomplishing that feat by hosting the tournament, Butler said they also got to bring greater exposure to aspiring junior players while promoting more competitive tournaments for junior veteran and senior players.
Versatile Butler, who is also a very talented baseball/softball player, secured the men's singles title with 6-2, retired decision over Cory Francis.
Rita Roy emerged as the ladies' champion, winning 4-1, 4-5 (9-7) in the tie breaker over Victoria Assesio.
Butler came out as a double winner as he teamed up with Alejandro Mesples to win the men's doubles crown with a 4-0, 5-3 win over Bud Cambridge and Rudy Williams.
And, in a special exhibition match, Elana Mackey and Shavano Hanna prevailed with a 4-1, 3-5 (10-8) victory over Sydney Clarke.
"It was a wonderful experience and exchange for many supporters and players who were attending and playing at the Flamingo Gardens Community Center tennis courts for the first time," said Butler where his Southwest Tennis Club is based. "The competition was fierce because we had a good show from many of our top junior veterans in New Providence. But the highlight of the tournament may have been the exhibition match between Sydney Clarke and Elana Mackey teaming up with two of our upcoming junior players in a mixed doubles match."