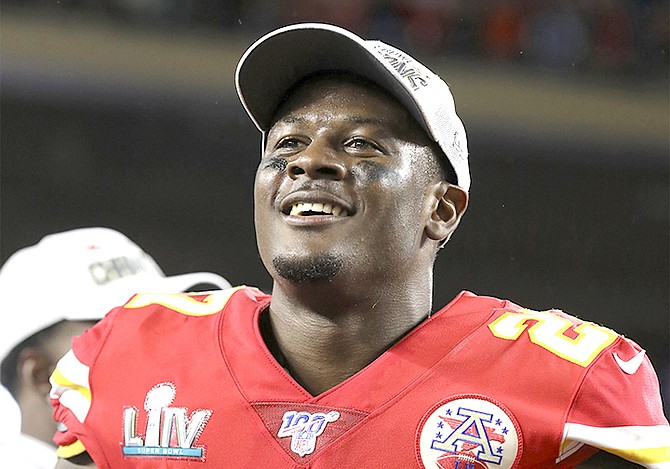 By BRENT STUBBS
Senior Sports Reporter
bstubbs@tribunemedia.net
IT'S very rare that a professional athlete gets to play for two consecutive titles in any sport in the same state that he was born in.
Rashad Fenton, of Bahamian descent, will be one of those exceptions when his Kansas City Chiefs defend their National Football League Super Bowl title against the Tampa Bay Buccaneers.
Last year, the Chiefs won the Super Bowl with a 31-20 rout of the San Francisco 49ers at the Hard Rock Stadium in Miami, Florida, the same stadium where he used to serve food and drinks as a teenager.
The Chiefs, coached by Andy Reid, will be back in Florida with an impressive 16-2 win-loss record against the 14-5 Buccaneers, coached by Bruce Arians, when the game is played 6:30pm Sunday at the Raymond James Stadium in Tampa.
All of the pre-game talk is centred around whether or not Patrick Mahomes will establish himself as the quarterback of the future with his back-to-back title for the Chiefs, or Buccaneers' Tom Brady, at 43, will build on his legacy as the greatest QB ever with his seventh crown and possible fifth MVP crown.
This is Brady's second season in Tampa Bay after he played previously with the New England Patriots from 2000-2019.
The 25-year-old Mahomes has been in Kansas City since 2017 after he was the No. 10 pick in the first round of the NFL Draft out of Texas Tech.
Fenton, 23, made his contribution to the Chiefs' success last year and he hopes to do the same again this year as a cornerback. He was the 201st pick in the sixth round of the NFL draft in 2019 out of South Carolina.
He is the son of Bahamian born Laurie Fenton, a graduate of RM Bailey High School who went on to attend St Thomas and Barry University where she met his father, Rohan Fenton Sr.
While living in Miami, Fenton went on to play for Miami Carol City.
His mother, who will be attending the game, which is expected to have limited fan participation because of the COVID-19 restrictions, said she's very proud of her son's accomplishments.
"That is thrilling within itself. Only God could have predicted this," she said. "Only God could have led him to this destiny. He's in great shock that he's actually living this dream out.
"To add to it he's playing twice in his home state. So for him, that is God's gift that he is actually living this, especially with all of the hurdles and obstacles that athletes go through. This is God sent."
As a humble individual, she said when she spoke to him, he was so thrilled to be so young to go through another Super Bowl experience.
She said she and her son, Rohan Jr, will be attending the game.
They were hoping that some of the family members from the Bahamas would also be there, but they opted out because of the COVID-19 restrictions that they would have to go through leaving and returning home.
As a result of the restrictions imposed for the safety of everyone involved, the Chiefs won't arrive in Florida until Saturday and they will leave immediately following the game.
So the Fentons won't have much time to do any family bonding in any pre or post-game activities.
This past season, Fenton recorded 27 sacks with an interception. For his career, Fenton had a total of 50 tackles, one forced fumble, 11 pass deflections and two interceptions.
He is the second Bahamian to play for the Chiefs, following in the footsteps of wide receiver Devard Darling, who played for two seasons with the Chiefs from 2008-09.
Prior to playing for Kansas City, Darling spent his four seasons in the NFL with the Baltimore Ravens from 2004-2007 after being drafted in the third round in 2004 out of Washington State.
Darling, 38, lost his identical twin brother Devaughn in 2001 after he collapsed during football practice at Florida State University. They are the younger brothers of Bahamian Olympic quarter-miler Dennis Darling and nephews of Olympic triple jump bronze medallist Frank Rutherford.
Fenton would join Bahamian pro basketball players Mychal 'Sweet Bells' Thompson and Rick Fox, who won two or more titles in the National Basketball Association (NBA).
Thompson, now 66, emerged as repeat champions with the Los Angeles Lakers in 1987 and '88, while Fox, 51, earned three straight crowns with the Lakers from 2000-2002.