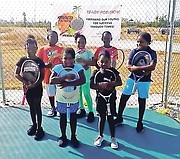 THE Bahamas Lawn Tennis Association (BLTA) is pleased that free tennis clinics are being offered in various islands in The Bahamas.
"Tennis is a naturally socially distanced sport and is well suited for the current environment with all the safety protocols in place," according to a press release.
NASSAU
Kids were able to benefit from multiple programmes being offered for free at the National Tennis Centre on the weekends:
The BLTA Play Tennis programme and Coach Steve Taylor Tennis programme.
In the Play Tennis, the kids were able to benefit from the sessions offered by The Bahamas Lawn Tennis Association (BLTA) to learn the forehand, backhand, volley and serves.
This weekend Elanqua Griffin, who played collegiate tennis for Missouri Valley Vikings and represented the the country in tennis internationally, shared her knowledge with the kids.
Last weekend past, president Derron Donaldson coached in these sessions. 2019 Davis Cup Player Donte Armbrister along with other volunteers also assisted in the sessions.
The classes are fun and the kids are learning how to play tennis. Coaches and assistants can volunteer and interested kids can register at pr@blta.net.
Coach Steve Taylor has also taken a group of youngsters under his wing for free tennis instructions. Coach Taylor, who has been conducting these free programmes for years, is pleased to give back to the next generation.
The children in the programme are from the E. P. Roberts Primary School. The tennis clinics are conducted at the National Tennis Centre (NTC).
GRAND BAHAMA
The Grand Bahama Tennis Association (GBTA) held its first tennis clinic for 2021 at the Moon McPhee Park on Sargent Major.
President of GBTA Natishkah Barrett thanked coaches Doris Kemp-Knowles, Danny Rigby and McArthur Rigby.
The next free community tennis clinic will be at 10am on Saturday, February 13, 2021, at the same location in Freeport.
ABACO
The Abaco Tennis Association (ATA) offers a free weekly Tennis Programme in Dundas Town. President of ATA Cameel McDonald leads this wonderful initiative.
Some of the persons who coached this weekend were Chavonne Reid, Macquel Spencer McDonald and Leon Pinder.
The President of the BLTA Perry Newton is pleased that free tennis lessons are being offered in tandem by the BLTA and the island associations.
President Newton stated:
"It is important that we grow in tennis across all the islands.
"We want every child who desires to hold a racquet to take advantage of these opportunities.
We are planting the seeds for the next generation of tennis juniors, providing a firm foundation for growth and sustainability."