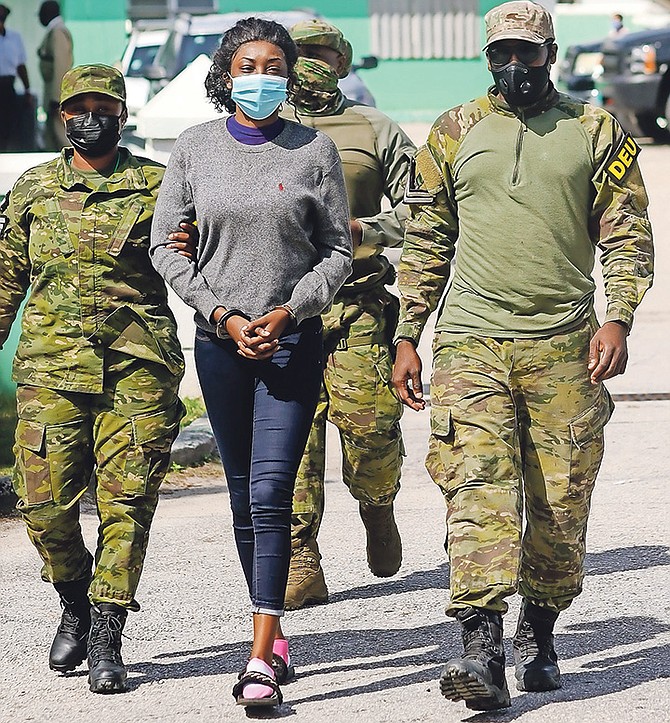 By FARRAH JOHNSON
Tribune Staff Reporter
fjohnson@tribunemedia.net
A 25-year-old woman who pretended to be a lawyer so she could smuggle a cell phone and more than $2,000 worth of marijuana into the Bahamas Department of Correctional Services for an inmate was yesterday sentenced to 15 months in prison.
Police said Warnika Russell, 25, was arrested after she presented a fake Bahamas Bar Association ID in the name of Ashley Evans to officers at the prison on February 12.
The prosecution said the beautician used the fraudulent card to get into the prison undetected between September and November of last year, before she was finally caught by officers after she attempted to smuggle 12 packages of marijuana into the facility.
Yesterday, Russell was charged with 12 counts each of possession of a forged document, uttering a forged document and pretending to be an attorney at law, in addition to two counts of possession of dangerous drugs with the intent to supply and a single count of taking a prohibited device into the prison.
She admitted all the offences when she appeared before Deputy Chief Magistrate Andrew Forbes.
The court was told that officers from the Drug Enforcement Unit received information regarding Russell pretending to be a lawyer by the name of Ashley Evans to smuggle drugs into the prison.
They went to BDCS where they confiscated the fake BBA ID and arrested Russell. When they searched her at the Elizabeth Estates Police Station, officers found $2,600 worth of marijuana taped to her abdomen. When questioned she told them her real name was Warnika Russell. She said she was paid $3,000 to smuggle the drugs and cell phone into the prison for an inmate named Stephen Greene.
During the interview, Russell also told officers that she had another $1,600 worth of Indian hemp at her home that was stashed in 11 packages she had hidden in two clothing baskets. The accused said she agreed to commit the crimes because she was struggling to make ends meet after falling on hard times.
During the arraignment, attorney Ian Cargill—acting as a friend of the court—told the magistrate that Russell was an unemployed beautician with no income who was the sole support of a five-year-old boy. He said that "desperate people do desperate things" and also noted that Russell had cooperated with police from the onset of the investigation because she was remorseful for her actions.
Yesterday, Russell also said she was "struggling" and "made a bad choice" by attempting to smuggle the contraband into the prison.
In response, Magistrate Forbes told the accused that while he sympathised with her financial plight, there were legal avenues she could have taken to get the relief she needed. He also noted her actions were especially heinous as a prisoner could have used the cell phone she smuggled into the department to contact and intimidate a witness and potentially interfere with the proceedings of a trial.
Magistrate Forbes said Russell also jeopardised the safety of officers and court staff, saying an inmate may have come to court under the influence of the drugs she smuggled and acted out in the precincts of the court. As a result, he sentenced the woman to 15 months behind bars.
He also said he was amazed that she got away with the acts for as long as she did.