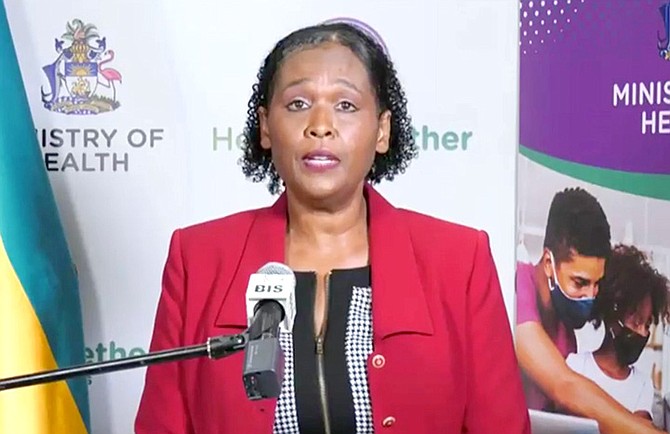 By LEANDRA ROLLE
Tribune Staff Reporter
lrolle@tribunemedia.net
NEARLY 30 percent of new positive COVID-19 cases recorded in New Providence and Grand Bahama during the past two weeks were identified as clusters – some of which were connected to the workplace and large social gatherings, health officials revealed.
During a virtual Ministry of Health press conference yesterday, Chief Medical Officer Dr Pearl McMillan did not confirm or deny that the Atlantis resort was one workplace linked to the clusters.
This comes amid reports the top resort is experiencing a COVID-19 outbreak that contributed to the recent uptick in cases. Resort officials did not respond to requests for comment up to press time.
Last week, the country recorded 83 new infections, with Thursday and Friday accounting for the highest number of cases for that week at 21 and 27 respectively.
Yesterday, Dr McMillan said some of the recently recorded cases can be classified as clusters.
She said four clusters have been identified by the ministry's contact tracing unit over the last 14 days. One particular cluster has had as many as 26 cases, she added.
Dr McMillan also said: "The cases associated with these clusters account for nearly 30 percent of all new cases, that is 162 reported during the last two weeks. The clusters are linked to the islands of New Providence and Grand Bahama.
"Cluster A produced 26 COVID-19 cases. Cluster B (produced) six cases – five of whom required hospitalisations and seven contacts have been confirmed to date. Cluster C produced seven cases – two of whom require hospitalisations and nine contacts so far are associated with this cluster. Cluster D produced eight cases, one requiring hospitalisation. Sixty contacts are associated with this cluster.
"Investigations are still underway to determine if there are further linkages of any of the other clusters."
While giving further details about the clusters, Dr McMillan said some groups could be linked to the workplace and others to social gatherings.
"I know one of the largest clusters was workplace related," she said. "The smaller clusters, I think were a mixture of workplace and gatherings."
Asked to confirm if one workplace was Atlantis, she replied: "The Ministry of Health, we value our interactions with the public, workplaces and other settings. We generally do not provide that level of detailed information."
Despite this, the Chief Medical Officer said The Bahamas continues to see a downward trend of new infections, but noted the situation could change if Bahamians become relaxed and let their guards down.
Dr McMillan said the nation's average weekly number of cases is 14, with New Providence still accounting for the most infections. She added officials have seen an improvement with the level of compliance regarding the fifth day rapid antigen testing requirement after it was revealed last month that 40 percent of travellers required to take the test did not do so.
"The second wave of the COVID-19 wave in The Bahamas has been protracted now at 231 days and counting," she said. "Our collective diligence and consistency in adhering to both public health measures and emergency orders have been key to our country's incremental or phased reopening of the economy and it will aid us in getting to the other side of the COVID-19 pandemic."
Given the low number of COVID-19 infections, Dr McMillan also suggested officials might consider making recommendations to the competent authority for a further ease in restrictions.
Grand Bahama's curfew was recently pushed back another hour due to the low number of new cases being reported there.
Asked if the public can expect to see similar changes for other islands, she said: "We will continue to monitor what is happening on those islands. I will not suggest that the curfews will be released as of tomorrow, but we will continue to monitor them and the graphs that were shown suggest that we may be in a position to do that going forward."
Yesterday, health officials also revealed plans to launch a "Healthy Together" campaign, an initiative that aims to better inform the Bahamian public about the coronavirus while also promoting health and wellness in the COVID-19 climate.
Health Minister Renward Wells said the campaign will take an "evidence based" approach.
He added: "Over the next two months the Healthy Together campaign will have a multi-channel and multi-media roll out… topics covered by the campaign include general safety such as proper hand hygiene, cough and sneeze etiquette, cleaning and disinfecting responsible."
As of Wednesday, total COVID cases in the country stood at 8,043 after ten additional cases were recorded. Four of those are in New Providence, another four in Andros, one in Grand Bahama and one in Abaco.
Dr McMillan said there have been cases of re-infections in The Bahamas.
However, director of the National Reference Laboratory, Dr Indira Martin said health officials will have to confirm the matter by performing gnomic sequencing on positive samples but noted the country does not currently have the capacity for the genomic sequencing that is needed.
There have been 179 COVID-19 related deaths, with 15 still under investigation.