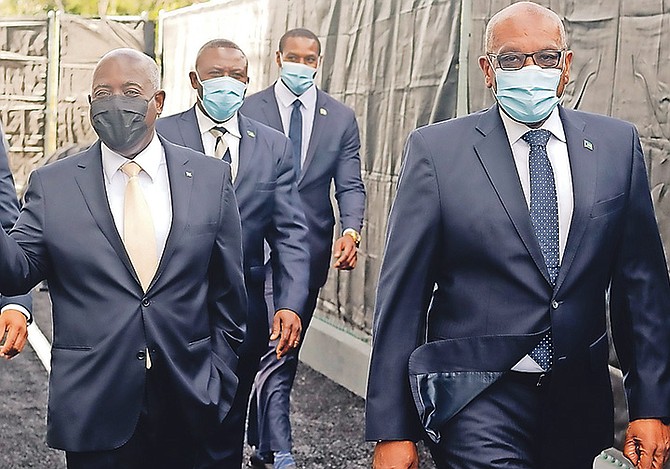 By RASHAD ROLLE
Tribune Senior Reporter
rrolle@tribunemedia.net
PROGRESSIVE Liberal Party leader Philip "Brave" Davis said he is willing to participate in a national televised debate with Prime Minister Dr Hubert Minnis.
Dr Minnis, however, did not reply when asked moments earlier if he would debate Mr Davis.
The men had just finished attending an event yesterday marking the opening of the new Macfit360 facility in Cable Beach when reporters surrounded them.
"I've said it before, that I am (willing to debate)," Mr Davis said. "If he wants to, I am here. I was asked before whether I would be prepared to debate the Prime Minister on a national stage, I said yes and I am, and I asked you to ask him whether he is prepared to."
Mr Davis, who hosted a press conference at the PLP's headquarters last week, has contrasted his accessibility to the press with that of Dr Minnis.
Reader poll
123 total votes.
He said: "You know what's so interesting? I'm here standing up responding to your questions and I can't remember ever seeing y'all ask him questions. Don't you think it's time for him to be answering y'all?"
Mr Davis also criticised Dr Minnis' weekend national address.
"I think disappointment is putting it mildly," he said. "Bahamians today are suffering and they need to hear words of hope and inspiration to assure them that this government is doing something to get them out of the misery that they are now enduring. No such plan or vision was articulated by the Prime Minister yesterday. The time has come for the Prime Minister to stop looking out for himself, and start looking out for the Bahamian people.
"When I say looking out for himself, he's more engaged in an attempt to find ways and means to re-elect himself or have himself re-elected than finding the solutions for the problems that our communities are enduring today."
Mr Davis was asked if Bahamians deserve public disclosures about the health of those vying to lead the country that is similar to the transparency that usually characterises presidential politics in the United States. US presidential candidates usually release official assessments of their health.
"Health is always a question," Mr Davis said. "I don't know whether there are any issues of health relating to (the Prime Minister) or I and if there are any questions, they can be asked but I'm not aware that the Prime Minister has any issue that we ought to be concerned about. I don't have any that I could be concerned about. I have none of the diseases that usually afflict the Bahamian people, so I know that my last health bill was clean, and I have no issues with my health."
Mr Davis was diagnosed with COVID-19 last year and recovered from the disease in a US hospital after a brief stay in Doctors Hospital.
He turns 70 in June and Dr Minnis will be 67 in April.