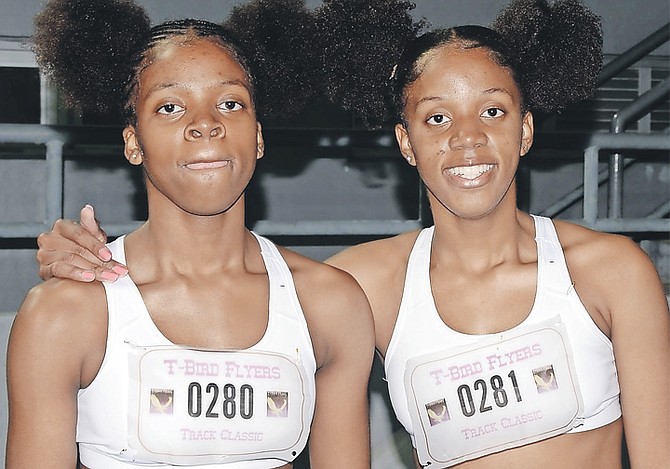 By BRENT STUBBS
Senior Sports Reporter
bstubbs@tribunemedia.net
They are basketball players for the CR Walker Knights senior girls' basketball team, but sisters Keanna and Kaiya Cambridge are making their presence felt on the track as well for Power Athletics.
In the T-Bird Flyers Track Classic on Saturday to officially kick off the new year for the Bahamas Association of Athletic Associations, the siblings went head-to-head for the first time and older sister Kaiya said there was no way she was going to let Keanna beat her.
The two went head-to-head in the combined under-17, under-20 and open women's 400 metre hurdles as the meet started to wind down with some events getting cut off the schedule at the Thomas A Robinson National Stadium.
Keanna Cambridge stopped the clock in one minute and 10.33 seconds for the victory in the under- 20 girls' division; Kaiya Cambridge followed for the win in the under-17 girls' division in 1:10.72 and University of the Bahamas Mingoes' Gabrielle Shannon was the open women's winner in 1:11.55.
"When I first started, like my coach said, control and then attack the hurdle," said the 17-year-old Keanna, who is in the 12th grade. "I maintained control and then attacked the hurdle on the back straight.
"On the seventh hurdle, I hit it and I saw my little sister coming, so I just ran and pushed until I reached home. I wasn't going to let her beat me. She's younger than me. We've never raced together before."
While this is the third year that the reigning Government Secondary Schools Sports Association champion is running the event, it's the second for her 15-year-old sister, who won the under-17 girls' title last year.
"That was terrible because I thought I was only going to come out here and run with the under-17 girls, even though I would have still been scared, but I would have managed to get through," Kaiya said. "I came out here and they told me I have to run against my sister. She is 17. I am 15.
"The race was actually kind of good. I did better than I thought. The last time I ran out here, I did 1:18.2, but with the help of coach Ednol Rolle, he taught me how to do the 400m hurdles, how to run, pick up and bring your leg over completely because I would normally leave it behind looking like a ballerina in the air. But he taught me well."
Javonya Walcott, representing Fast Forward, won the under-20 girls' 800m in 2:30.10. Cynae Hall of RedLine Athletics was second in 3:16.36 and Brianna Rolle of Another Level Track was third in 4:02.97.
"It was really cold out there, but I felt I did very good," said Walcott, the 16-year-old 11th grader at Queen's College. "I need more practice. I want to qualify in the 400 and 800m in the under-20 girls. I need to work on my speed and get stronger for the 800m."
Wendell Miller, competing for Power Athletics, showed that he was right on form as he won the under-20 boys' 400m in 49.57. Lamont Moss of DTSP Wolf Pack was second in 50.27 and Antonie Andrews of Speed Dynamic was third 50.52.
"I think I did very well today in my performance in the 400m. I think I executed very well and I did what I was supposed to do," said the tall, lanky Miller, who is an 18-year-old now in the 12th grade at St John's College.
"In the 400m, I'm hoping to do 46 or 47 and the 400m hurdles, I want to do at least 52. In the 400m, I need to work on my finish and in the 400m hurdles, I have it down."
Lhvinne Joseph, home from school in Iowa, took the open men's 800m in a showdown right to the finish line in 2:00.83. Auston Clarke of Speed Dynamic was second in 2:00.933 and Tyler Gardiner of the University of Bahamas was third in 2:01.97.
"The race was alright. It felt smooth," said the 19-year-old graduate of CR Walker. "It burnt a little being the first meet, but the plan was to stay strong, but not really take it out too fast. I wanted to sit behind the boys and wait to kick and that was it. That was the race."
When he returns to school, Joseph said he's hoping to lower his personal best of 1:56 to be at least 1:53 or faster, even though he said it's "a lot colder than here."
He said the people are "really nice" and that has made "everything smooth" for him.
Cresswell Farrington of Swift Athletics also had a tough battle at the line, winning the under-20 boys' 800m in 2:05.51. His team-mate Paulindo Boyer was second in 2:06.16 as they staved off the late attack by T-Bird Flyers' Amando Poitier, who was third in 2:06.81.
"To me it was perfect because I had my partner on the side of me to motivate me the whole race," said Farrington, a 17-year-old 12th grader at CR Walker. "He helped me with the whole race to get me through.
"At the start, it was a very fast pace. I had to slow down the pace and run my own race and let them run their race and just let them run their race. Then I catch them."
Raymond Winder of Hurry Murray won the under-17 boys' 800m in 2:12.722, but he had to avoid getting tripped up on the backstretch on the last lap. Berkley Munnings of Fast Forward Athletics was second in 2:17.97
"It went as planned. I was just trying to run it and take it out from the 200m, but I almost messed up because the boy tripped near the 200m and I almost fell trying to get around him," Winder said. "The back of my leg is cramping up."
Breyanna Kemp of Hurry Murray clocked 2:40.92 to take the under-17 girls' 800m. Telica Seymour of the Road Runners was second in 2:44.763 and Melvinique of the T-Bird Flyers was third in 2:51.45. On the field, Holland Martin of Leap Of Faith cleared 7.31m or 23-feet, 11 3/4-inches to clinch the victory in the open men's long jump over team-mate Kaiwan Culmer, who had to settle for second with 6.92m (22-8 1/2). Keianno Rolle of the University of Bahamas was third with 6.70m (21-11 3/4).
"It was really unexpected. I wasn't supposed to compete. This was just supposed to be a training day for me," Martin said.
"Somehow I ended up in the meeting. I was thankful for it. I actually got on the runway and saw what I have to fix. There's a lot that I have to do, but I pray to God that everything falls into place as the journey continues."
He hopes his journey will take him to the Olympic Games in Tokyo, Japan, not only in qualifying, but if possible, winning a medal in the process.
Getting in some speed work as he prepares for the upcoming season, quarter-miler Stephen Newbold went down to the 100m where he clocked 10.99 to win the open men's race.
Making his season debut as well was Jamaal Wilson in the men's open high jump. He soared 2.15m (7-0 1/2), while Abner Johnson of the Blue Chips Athletics posted double victory in the open men's shot put with 11.72m (38-5 1/2) and 30.96m (101-7) in the discus.
Tarajh Hudson of the Blue Chips Athletics' also posted a pair of victories in the under-20 boys' shot put with a heave of 15.02m (49-3 1/2) and the discus with 48.63m (159-6), while team-mate Keyshawn Strachan tossed the javelin 66.77m (219-0) for his triumph in the same category. Kaden Cartwright, also competing for Blue Chips, was another double winner in the under-17 boys' discus with 30.64m (100-6) and the javelin with 52.72 (172-11). Eyon Evans of Extreme Athletics won the shot with a heave of 10.05m (32-11 3/4).
Carnitra Mackey of the Blue Chips Athletics pulled off a double dose of victory in the under-20 girls' shot put with 12.20m(40-0 1/2) and the javelin with 37.17m (121-11).
Shelby Knowles, also of Blue Chips Athletics, was the winner of the girls' under-20 discus with 28.11m (92-2).
Leap of Faith got a 1-2 punch in the open women's long jump as Tamara Myers cleared 6.40m (21-0) and Andira Ferguson did 5.50m (18-0 1/2). Celina Thompson, their team-mate, won the open women's high jump with a leap of 1.60m (5-3).