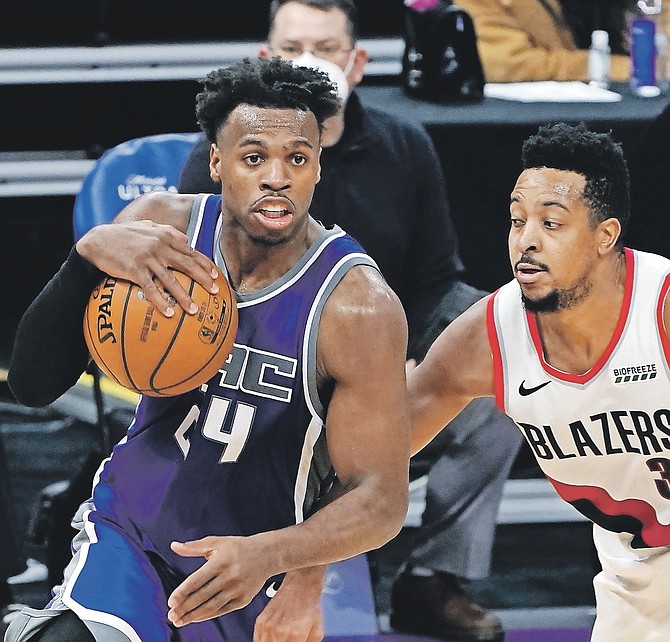 By RENALDO DORSETT
Tribune Sports Reporter
rdorsett@tribunemedia.net
CHAVANO "Buddy" Hield broke out of a shooting slump for his best offensive game of the season, but the Sacramento Kings squandered a late lead to lose their sixth game in their last eight appearances.
Hield scored a season high 26 in the Kings' 132- 126 loss to the Portland Trailblazers' Wednesday night at the Golden 1 Center in Sacramento, California.
He shot 8-18 from three-point range.
Over the last two games, Hield is shooting 15-32 (47 percent) from the field including 14-29 (48 percent) from three.
In the process, he extended his league leading streak to 78 consecutive games with a three-point make in the first quarter.
"I'm confident in myself. I knew I wouldn't shoot terrible the whole season. It's a sprint, not a marathon. I'm trying to make my way, be myself and just go out there and make plays for my teammates defensively and offensively. I didn't make shots in the last five minutes when my teammates needed me but other than that I shot the ball pretty well tonight."
The Kings led by 20 midway through the second quarter, 58-38. They also once led 94-75 in the third and took a 105-100 lead into the fourth quarter.
The Trail Blazers tied a franchise record with 23 three pointers led by Damian Lillard and CJ McCollum.
Lillard finished with 40 points and 13 assists, while McCollum had 28 points, 10 assists and seven rebounds. It was Portland's second consecutive game against the Kings in five days following a 125-99 win at home on Saturday.
At one point Hield was 8-12 from three but during the Kings' second half collapse, he missed his final six attempts from beyond the arc. "We have to have the will to sustain that. When they make a three we have to come down and run good sets...not taking quick shots, just being more mature and trying to weather the storm. We were up 16, 18 twice and we didn't weather the storm," Hield said.
"The game comes down to making shots, I had some good looks and I didn't make the shots. Whatever it is, I feel like I have to make those shots that were given to me that were pretty good looks."
Hield also added six rebounds and five assists with no turnovers in 38 minutes. "I talked to Luke [head coach Luke Walton] before the season about things he needs me to improve on, stuff like that motivated me. I'm a scorer so I think score first but I also know I have teammates, I have to get them the ball too and I also know I have to be better on the defensive end. Rex [assistant coach Rex Kalamian] challenges me to be a better defensive player, yeah there's going to be some nights where my a-- gets busted, I'm not gonna lie, but that happens in this league, the best of the best gets scored on."
As for the NBA's new stricter protocol measures, Hield said players will have to amend to the new normal of life and sport amid the COVID-19 pandemic. "We just have to stick to the rules. A lot of guys may not be for the rules but it's all about player safety, the coaches, staff and their surroundings, we have to protect ourselves first and we have to respect the league," Hield said.