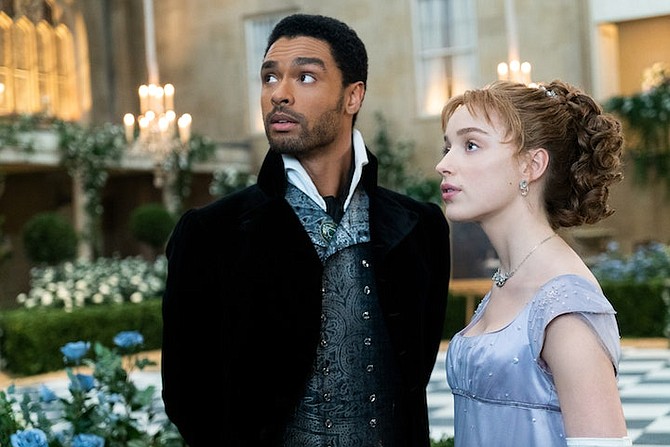 By CARA HUNT
Tribune Features Writer
cbrennen@tribunemedia.net
Who wants a prince when you can have a duke?
That's the sentiment shared by women all over the Bahamas right now after having been swept off their feet by the gorgeous and stunning Simon Basset, the Duke of Hastings, played by Regé-Jean Page in Netflix's new period drama "Bridgerton".
The show, based on the novels by Julia Quinn, takes a look at all the scandalous goings-on of English high society during the Regency era as told through the eyes of gossip columnist Lady Whistledown (voiced by Julie Andrews).
The series, produced by TV mogul Shonda Rhimes (the creator of "Grey's Anatomy", "Scandal" and "How to Get Away with Murder") follows the Bridgerton and Featherington families as their daughters are presented to society in hopes they will make suitable marriage matches.
But it is the rakish yet charming Duke of Hastings who has made the show one of the most-watched shows on Netflix in the country, and indeed around the world. (There are even rumours the young Zimbabwean-English actor could be the next James Bond.)
So just what is the appeal of a period drama set in 1813 to viewers in the year 2021, we asked our Tribune readers. This is what they had to say:
"Honestly, this show is the best COVID distraction ever," Mimi told Tribune Woman.
"It was great to just turn it on and get a break from the problems COVID has caused. And I mean, it has a leading man who is sooo attractive and that accent makes him even more appealing."
Tina added that she's always found movies and TV shows to be fascinating entertainment.
"One of my favourite books is 'The Age of Innocence' and I absolutely adored 'Downton Abbey'…that show was tame compared to 'Bridgerton' though. 'Bridgerton' is like all those Victorian romances I used to sneak to read come to life. It's just so much fun to watch. I have two more episodes and I am hooked," she said.
"Let's be real," said Krissy," "who doesn't love a good old romance with all those hot, sexy scenes. There is something so raunchy yet innocent about the show and I loved it. 'Bridgeton' is that show you watch at the end of a day, cleaning your house, struggling with homeschooling and the kids, and you have your glass of wine and think why can't a duke fall in love with me, why couldn't I be a society girl and only have to dress up in beautiful gowns to dance the night away and have servants at my beck and call. It's so far away from my life. That's the appeal; it's a fantasy life and it's so juicy. It's been a while that I have seen like a good juicy romantic show."
The diverse cast of the show, while a point of criticism for some, is the appeal for April.
"I love that the show has Black people in it. I just enjoy seeing diversity in such a good show. I would have enjoyed it regardless, but it's nice to see," she said.
Caroline said it is about time streaming platforms catered more to women.
"You've got all these Marvel and Star Wars shows coming up, which I'm looking forward to as well, but it's nice to have something specifically for us girls to enjoy," she said.
Growing up reading all the "bodice-ripper" novels she could get her hands on, Caroline said it's fantastic to see this genre brought out of the shadows and into the mainstream with such a high-quality production.
"I hope Netflix realises there is a huge market for this kind of thing out there and starts adapting more fun, raunchy, escapist romance novels," she said.
Season one of "Bridgerton" told the story of Julia Quinn's "The Duke and I", the first novel a romance series about the Bridgerton siblings. Like "The Duke and I", it focuses on Daphne Bridgerton and Simon Basset, the Duke of Hastings.
Season two is already in the works – although COVID-19 has stalled the production – and while it will feature some of the same cast, the focus will most likely be on Anthony Bridgerton, who is also the main protagonist in the second book, "The Viscount Who Loved Me".