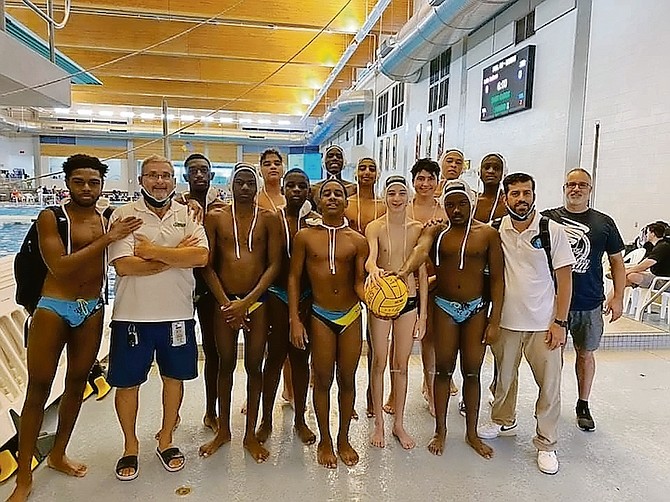 By RENALDO DORSETT
Tribune Sports Reporter
rdorsett@tribunemedia.net
BAHAMIAN Mantas Water Polo joined with the North Houston Storm Water Polo Club and finished fourth at the Southwest National Junior Olympic Qualifier in Houston, Texas.
The group of 18 Mantas participated in both the Under-18 and U-16 age groups as the Storms attempted to qualify for the USA Water Polo National Junior Olympics.
The U-18 division concluded tournament play with a 15-3 loss to the Thunder in the bronze medal game Sunday afternoon and finished with a 3-2 record over the weekend.
They began play with a 24-7 win over the Mavericks, followed by a 7-6 win over Viper Pigeon and an 18-8 win over Zilla before a 10-4 loss to Southside Navy.
In the U-16 age division, the Storm/Mantas combined team finished with a 3-1 record. They opened with an 8-4 loss to Viper Pigeon Green, followed by a 15-6 win over Viper Pigeon Black, a 13-6 win over Aqua Swift, a 6-5 loss to Thunder Silver and concluded with a 12-9 win over Cowtown.
The USA Water Polo Junior Olympic Championships is the largest age group water polo tournament in America with over 400 teams competing over the course of the four-day event.
The Bahamian players first joined the Storms at the 2018 Southwest Zone Junior Olympics Qualifier tournament in Houston, Texas, where they finished fourth out of 10 teams.They successfully qualified for and made am historic appearance at the USA Water Polo National Junior Olympics.
Six members of the Mantas joined the Storms to form a select team - BahTex ManStorm.
They finished 24th out of 48 teams in the Under-16 Classic division at the event in San Jose, California.
Also in 2018, Bahamas water polo began its string of successes at the 33rd CARIFTA Aquatics Championships in Kingston, Jamaica, with a trio of gold medals.
In July of that same year, the Under-16 Water Polo team concluded tournament play with a silver medal.
And they secured Youth Pan Am Games qualification in El Salvador at the CCCAN Championships.