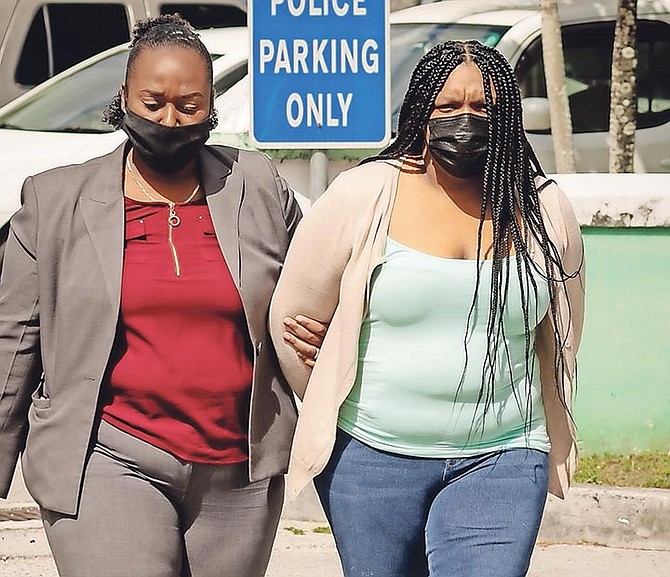 By FARRAH JOHNSON
Tribune Staff Reporter
fjohnson@tribunemedia.net
A FORMER bank supervisor yesterday admitted stealing over $35,000 from customer accounts to help pay her own bills.
Angel Hudson, 25, of Eleuthera, appeared before Chief Magistrate Joyann Ferguson-Pratt faced with 85 counts of fraud related offences linked to stealing by reason of employment, falsification of accounts, forgery and money laundering.
Hudson previously pleaded guilty to 22 counts of stealing by reason of employment and 18 counts of falsification of accounts when she initially appeared before the magistrate last Friday. When Magistrate Ferguson-Pratt read the remaining charges brought against Hudson yesterday, she owned up to all the offences.
Hudson stole $36,650 from Commonwealth Bank's Spanish Wells branch while employed there between June 2020 and February 2021.
Officers said Hudson made numerous false entries into the savings accounts of several customers "by posting a fraudulent debit" to purport a decrease in funds in the customers' respective accounts.
Hudson also forged several withdrawal receipts in the name of bank clients to remove funds from their accounts and deposit it onto her own bank book and the accounts of people she allegedly owed.
The prosecution said on February 5 a complainant contacted the bank branch to report his balance was less than it should have been. The bank gave the man a printout of his recent transactions. He discovered that five withdrawals totalling $6,500 taken from his account without his permission. When the bank provided him with a transaction receipt, he discovered the signature was not his. He reported he was not on the island when the transactions were made. The bank conducted an internal inquiry which revealed the unauthorised withdrawals were performed by Hudson who deposited the funds onto her own account.
Further investigations revealed three more customers were compromised after she misappropriated a total of $36,650 from accounts without permission. The court heard Hudson would deposit the funds onto her account, as well as the accounts of people she owed.
An investigation was launched and police reviewed surveillance footage which showed Hudson approaching another teller's work station while no customers were present to quickly perform the withdrawals and subsequent deposits. When her colleagues were interviewed, they told officers they were not aware the transactions were unauthorised because Hudson would usually come to them and say: "Let me do these transactions quickly on your computer."
They said they never questioned the defendant because she was the verifying officer who was "essentially their supervisor".
The court was told the third parties who received funds from Hudson also said they were not aware that the money was obtained illegally. When the accused was arrested, she admitted to conducting the illegal transactions and forging the signatures to credit the money to her account. When she was asked why she did it, she said her "bills and expenses were too much to handle on her bank salary".
Magistrate Ferguson-Pratt told Hudson her actions were unacceptable and said there was no justifiable reason to go "pinching" other people's funds. Still, she said she would need some time to review the mitigating and aggravating factors and deferred the matter to March 8 for sentencing.
Hudson was remanded into custody until that time.