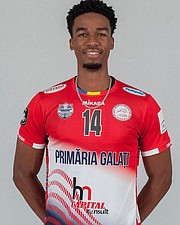 By BRENT STUBBS
Senior Sports Reporter
bstubbs@tribunemedia.net
HE could have continued his pursuit of basketball, baseball or track and field. But Eugene Stuart said from the time he played for the Big Red Machine at St Augustine's College, he knew he would be a professional volleyball player.
Not only is Stuart living out his childhood dream, but he accomplished the feat of becoming the first Bahamian to win a professional volleyball title with the Arcada Galati in the Division A1 Championship Group in Romania last month.
Coached by Romanian Sergiu Stancu, the 24-year-old middle blocker helped them to an impressive 18-2 win-loss regular season record that they extended to 22-4 at the completion of the postseason.
This was his second year as a pro, playing last year with Karelin Hurmos in Finland where they advanced to the playoffs in sixth place, but didn't finish because of the coronavirus pandemic.
On his return home at the Lynden Pindling International Airport on Sunday, Stuart was greeted by his mother, Enid Stuart, his aunt Jenniemae Stuart, his sister Telnear and her husband Miguel Cartwright and their two daughters Mya and Mason along with his cousin Lashanna Gittens.
It was a welcome reception that Stuart said he will never forget.
"It's always good to be back home. Being away for eight months, it was definitely a long time, but it's always good to come back home," Stuart said. "To see my family again and the way they welcomed me home was very, very, very emotional. But at the same time it was good to see that love and care."
Enid Stuart said she was elated with her son's accomplishment.
"I just pray that he stays focused and continues doing what he is doing and will come back home and encourage other young men to get involved in sports," she stated.
"There's much discipline in sports and because we are losing so much of our young men, they could help to turn their lives around. So I just want to wish him well in his future endeavours."
Just before he left Romania, Stuart said the team got together and celebrated their victory by coming together as each player made a motivational speech as they bid each other farewell.
"It was nice to be playing over there, but as the only Bahamian or player from the Caribbean, I had to stand my ground," said Stuart, who came off the bench and provided a spark on the court.
"To share in the experience of being a foreigner and learning from other players, getting their advice and everything, it was just a good feeling. I certainly enjoyed it."
Unlike last year when the season was halted because of the start of the pandemic, Stuart was just appreciative of the opportunity to play this year.
"Everything was uncertain, including whether I would play, who I would play for and whether I could get some gym workout to stay in shape," he reflected. "But just to be able to play, I'm grateful for it."
Looking at the magnitude of the pandemic here where the country remains on a 10pm curfew and there is very little sporting activities going on, especially volleyball, Stuart said he has to remain focused and not get complacent.
"I want to play again next season, so I have to stick to my routines, my workout and taking my supplements so that I can be in the best shape that I can be," said Stuart of the season that typically starts around October or November.
As a free agent, Stuart said there's no definitive decision made as yet as to whether or not he will return to Romania or he will be seeking another location to play in.
Over the next few months, however, Stuart said he will enjoy the offseason with family and friends, the beach, the weather and most importantly, the Bahamian food. "It's nice to experience different food and different cultures, but I could really go for some peas and rice," he lamented. "That's something I missed the most, the food, the weather and the Bahamian dialect. "The language barrier is something that I had to deal with, but it wasn't so difficult because everybody understands some English or they speak a little of it. Some things get lost in communication, but it wasn't hard to get along."
During his journey through Romania, Stuart said he picked up a few phrases to greet people and some simple words that he could share in a conversation.
As one of three Bahamians currently playing on the pro circuit, Stuart said it's good to know that there are others making their mark on the sport like Shonari Hepburn, who played in Switzerland and Byron Ferguson, who sat out this season.
"At this level, it's an amazing feeling, especially for me because this was something I wanted to do since high school," Stuart said. "To put into retrospect for me, I know that someday I would be able to help a young male or female accomplish their dream.
"It's coming from a place where I really knew that I would be here. Now that I am here, I just have to take advantage of it because you never know where you will end up with the uncertainty that the world is in right now."
At a place where he wanted to be, Stuart had this advice for those hoping to follow in his footsteps.
"First and foremost, put God first in everything you do and never ever settle for less. Always put quality over quantity," he stated. "Whatever sport you decide to play, talk to people who have been there and are doing it now and never be complacent."
Asked what he enjoyed the most in Romania, Stuart said it would have been able to play volleyball at such a high level at both the championship and cup level, which helped him in his development of the sport.
"I tried to stay positive all season, so I didn't really have much downtime or down days. I tried to stay as positive as I could straight through," he pointed out.
"I was able to develop a positive mentality, so I really didn't have negative thoughts on the whole situation."
Looking back at his career so far, Stuart expressed his gratitude to God for providing him with the talent and to his parents, Enid and Fabian Stuart for allowing him to enhance his ability in the sport.
He was very gracious of the support from the late DeVince Smith, who played an instrumental role as a coach and mentor in his life as a youngster growing up and fellow national team players Shonari Hepburn, Byron Ferguson and Renaldo Knowles, who all helped to pave the way for him.
After graduating from St Augustine's College in 2015, Stuart went to the University of Charleston in West Virginia where he played on the Golden Eagles' volleyball team with Rajahl Moxey before graduating in 2019 with his Bachelor of Science degree in Sports Business.