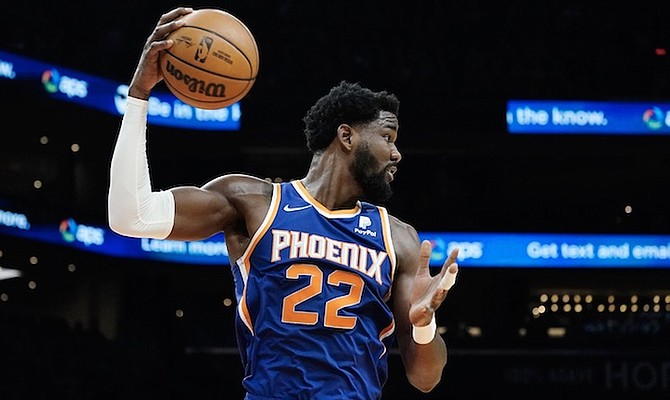 By RENALDO DORSETT
Tribune Sports Reporter
rdorsett@tribunemedia.net
Deandre Ayton had his second consecutive double double of the season but was also sidelined with a right leg contusion.
Ayton finished with 17 points, 12 rebounds and three steals in just 24 minutes of his Phoenix Suns' 101-92 win over the Cleveland Cavaliers at Footprint Center in Phoenix, Arizona, on Friday night.
"It's one of those deals where when you get hit, it lingers for a minute," Suns head coach Monty Williams said postgame. "We should be able to get a better evaluation soon but we think he's going to be okay."
Ayton played a key role for the Suns from the midpoint of the second quarter to the late portion of the third quarter that put the game away.
Cleveland had a 31-24 lead at the end of the first quarter before the Suns were able to turn the game around.
The Suns' run eventually turned a 14-point deficit into a 24-point lead.
Ayton is listed as day-to-day on the injury report but is expected to play when the Suns host the Pelicans on Tuesday night.
Through five games this season he is averaging 13.8 points and 11.4 rebounds per game on 62 percent shooting from the field.
After a pair of single-digit scoring outputs on a back-to-back October 22 and 23, Ayton produced a 21-point, 21-rebound effort against Sacramento on October 27.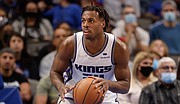 Chavano "Buddy" Hield had another sharpshooting display against his former team Friday night as the Kings won their third road game of the season.
Hield finished with 20 points, six rebounds and two steals off the bench in the Kings' 113-109 win over the New Orleans Pelicans at the Smoothie King Center in New Orleans, Louisiana.
He scored five points in an 11-0 run to close the second quarter as the Kings took a 59-48 lead into the half. The Pelicans rallied to take a 72-69 lead in the third but Hield answered with six points on an 8-0 run to put the Kings ahead for good. Hield made a three pointer and on the next possession was fouled on his three-point attempt. He converted all three free throws to give the Kings a 75-72 advantage. Hield was drafted No.6 overall by the Pelicans in the 2016 Draft, but was traded to the Kings at the All-Star break of his rookie season in 2017.
The Kings lost game two of the road trip yesterday (105-99) to the Dallas Mavericks at the American Airlines Center in Dallas, Texas.
Hield finished with 11 points and a season high eight rebounds. Through six games he is averaging 18.5 points and 5.6 rebounds per game on 43 percent shooting from the field and 44 percent from three-point range.