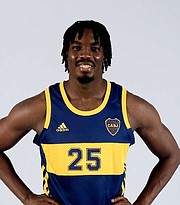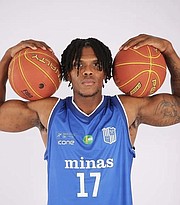 By RENALDO DORSETT
Tribune Sports Reporter
rdorsett@tribunemedia.net
DAVID Nesbitt and Tavario Miller swapped clubs and leagues for the 2021-22 season and have had immediate impacts for their respective organisations.
Both veteran forwards have helped their team get out to undefeated starts in week one.
In his first season with Boca Juniors in Argentina's Liga Nacional de Básquet, Nesbitt has averaged 12 points and 3.7 rebounds per game en route to a 3-0 start.
In the season opener, Nesbitt finished with a season high 16 points and three rebounds in a 75-72 win over Argentino. He moved into the starting lineup in game two and finished with eight points and four rebounds in an 82-71 win over Regatas. He also totalled 12 points and four rebounds in a 77-68 win over Olimpico.
Miller is in his first season with Minas Belo Horizonte of Brazil's Novo Basquete Brasil (NBB).
The club is off to a 4-0 start and Miller is averaging 12 points and 4.5 rebounds per game. In the season opener he finished with eight points and seven rebounds of a 77-59 win over U. Corinthians.
He also posted 11 points and four rebounds in a 79-63 win over Caxias Do Sul, a season high 19 points and 7 rebounds in a 109-75 win over Mogi and scored 10 points in just 18 minutes of a 79-67 win over Pato Basquete. Nesbitt made the move to Argentina after a four-year tenure in Brazil's Novo Basquete Brasil (NBB). The veteran 6'6" forward spent last season with Minas.
In 31 games, he averaged 10.4 points and 5.5 points per game en route to being named an NBB All-Star. Minas finished with the second best record in the league, reached the semifinals and finished third in FIBAs Basketball Champions League Americas Final.
Following two seasons in Argentina, Miller headed to the NBB last offseason.
Last season, he spent 40 games with Boca Juniors. He averaged 13.6 points and 8.2 rebounds per game and helped the team advance to the semifinals.
In the previous campaign, he played with Quimsa Santiago del Estero and in 21 games he averaged 10.9 points and 5.5 rebounds per game. He played an integral role in Quimsa winning the league's pennant and finishing as the runners-up in the final.
In 2019, he played with Union Athletic Club in Uruguay where in 10 games he averaged 16.9 points, 12.7 rebounds, 2.2 assists and 1.9 steals per game.
Miller also played in the Spanish LEB-Silver league with Grupo Eleyco Baskonia and in 33 games with the club, he averaged 11.5 points, 8.4 rebounds, and 1.2 steals per game.
He has also played professionally in Mexico and Norway (Fyllingen BBK). Miller's team made it to the Norwegian BLNO Semifinals in 2018. He was also voted Eurobasket.com All-Norwegian BLNO 2nd Team in 2018.