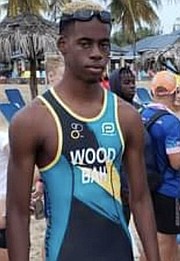 By RENALDO DORSETT
Tribune Sports Reporter
rdorsett@tribunemedia.net
TRIATHLETE Ralph Wood III and several members of the swim team will be the first Bahamians to participate in their respective disciplines when competition begins at the inaugural Junior Pan American Games this week.
The country will be represented in five disciplines (athletics, swimming, rowing triathlon and wrestling) featuring thousands of the best youth athletes across the region, November 25 to December 5.
Wood will set out amongst a field of 30 athletes in the individual male event, set for 10am tomorrow morning local time at the Calima Lake Yacht Club in Cali, Colombia.
Wood, the 2019 Bahamian triathlon national champion in the elite men sprint, will be coached by Dorian Roach.
Rhanishka Gibbs and Nigel Forbes will be the first members of the swim team to take to the pool tomorrow morning at the Hernando Botero O' Byrne Aquatics Complex.
Gibbs will compete in the 100m breast while Nigel Forbes competes in the 200m butterfly. Later in the competition, Gibbs will also compete in the 50m free, 200m IM and mixed 400m free relay while Forbes will swim in the 200m IM and 100m fly.
Other members of the swim team include Davante Carey (100m Fly, 100m Back, 200m Back, 100m Free, Mixed 400m Free Relay), Lamar Taylor (200m Free, 100m Free, 50m Free, 100m Back and Mixed 400m Free Relay), William Russell (100m Breast, 200m Breast), Shawn Neely (Mixed 400m Free Relay), and Rachel Lundy (200m Free, 100m Free, 50m Free, Mixed 400m Free Relay). Travano McPhee is the head coach.
The athletics competition will run from November 30 to December 4.
Team members include Lacarthea Cooper (100m/400m), Carlos Brown Jr (200m) Tarajh Hudson (discus), Antoine Andrews (200m), Tre Buchanan (400mH), Gabriel Curtis (5000m /10000m) and Kyle Alcine (High Jump).
Hudson will be the first team member in action on November 30. The coaching staff includes David Charlton, Kennord Mackey and Dione Britton.
Breanna Gayle competes in Rowing (Oar W1x) on December 4 and is coached by Karianne Kulig.
Chigozie Ijeoma will compete in wrestling in the freestyle 97kg division on December 4 and is coached by Clinton Burke.
When the team was ratified last week, BOC President Romell Knowles applauded the wide cross-section of sporting disciplines represented by the country.
"We are putting a strong focus on the small sports federations because our focus is to get as many people from as many disciplines as possible to compete at the Olympic Games, and this is a step in that right direction," he said.
"We just want to be as diverse as possible when we're talking about representation for The Bahamas."
The Junior Pan Am Games multi-sport target athletes in the region ages 17-22. The motto is: 'Ready To Give' #AllForYou.
"More than 3,500 athletes from 41 countries will arrive in Valle del Cauca along with about 10,000 people in general, including family members of the athletes, journalists, international volunteers, leaders and coaches of the multiple delegations. We want to receive all of them with the warmth and friendship with which all Colombians are known for," said Cali 2021 executive director, Jose Luis Echeverry.