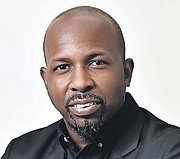 THANKSGIVING Day, even in The Bahamas, usually signals the start of the festive season and the season of giving. This year, the spirit of giving is even more critical as the world rebounds from the terrible grip of the global pandemic.
COVID-19 has dealt a blow to the financial stability of individuals and communities. Companies now, more than ever, must step up to the plate in their giving efforts and implement support programmes to assist the communities around them.
This week's article provides seven suggestions for companies looking to enshrine giving as a corporate lifestyle.
Volunteer together. This season is a good time to encourage your staff to donate their time and resources to the less fortunate. There are literally thousands of abandoned elderly persons, neglected children and the terminally ill, while those with disabilities are also in desperate need of love, care and assistance. Find a cause and go all-out in supporting it before the close of the year.

Offer your services gratis. Whether you offer medical, educational, financial or some other type of service, a kind gesture might be to provide those services pro bono (without charge) for a day or a week to a deserving and needy customer base.

Encourage your staff to give. Giving competitions always provide the encouragement team members need to allow the love to flow. Reward your staff for their generous giving, and highlight them when they do it consistently.

Support other businesses by forming new partnerships. Taking your staff to a local, upcoming restaurant might be the blessing that a struggling entrepreneur needs during this time. Companies need each other. Become the support that another firm needs to become more profitable.

Strengthen your corporate social responsibility. Every company in the 21st century needs to approach business from a responsible standpoint. Make a pledge to reduce your carbon footprint this season. Applying reduce, reuse and recycle strategies will send the clear message to employees and the wider community that you are serious about giving back.

Plan an increase in your philanthropic budget in 2022. There are always needs within and without. As we plan a full recovery, giving must become incorporated in all we do.

Encourage less buying and selling, and more giving. Employee giveaways such as toy and book drives always seem to rally your team around a greater sense of purpose.
As a leader in your company, you are always looking for those win-win situations in which good deeds and acts of charity can prove beneficial to the company. That kind of synergy can go a long way towards furthering your company's goals, improving employee engagement, and strengthening your community all at once. Get on with in. Invite the spirit of giving to your company this season.
• NB: Ian R Ferguson is a talent management and organisational development consultant, having completed graduate studies with regional and international universities. He has served organsations, both locally and globally, providing relevant solutions to their business growth and development issues. He may be contacted at tcconsultants@coralwave.com.