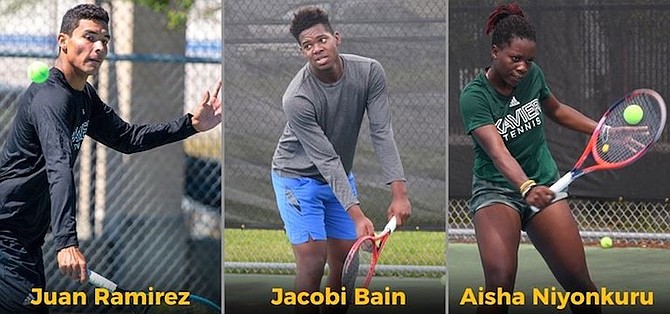 By BRENT STUBBS
Senior Sports Reporter
bstubbs@tribunemedia.net
He is only in his freshman year at Xavier University of Louisiana, but Bahamian Jacobi Bain will be among the list of players participating in the Intercollegiate Tennis Association (ITA) Cup Championships in Rome, Georgia.
Bain along with his Gold Rush doubles partner Juan Ramirez have qualified for a National Association of Intercollegiate Athletics (NAIA) at-large spot in the tournament that starts on Thursday at Rome Tennis Center at Berry College.
Formerly known as the Small College Nationals, the ITA Cup, established in 1986, is the only singles and doubles national championship event for the Division II and NAIA levels.
"I feel pretty good about it. It's an amazing accomplishment for me.
"For me to do it in my freshman year, it's quite an honour," said the 18-year-old Bain.
"This is the first time for me and my partner and the first time that we are playing together, so we just want to go there and do our best," he added.
Ramirez and Bain were selected for men's doubles.
The duo is expected to join Aisha Niyonkuru, who was chosen for women's singles. They were runners-up at the ITA Gulf Regional October 1-3.
"I know it's going to be a tough tournament because all of the top players have made it," Bain stated.
"We just have to be prepared to play our best tennis," he said.
The trio are participating in the tournament along with XULA automatic women's qualifiers Kyra Akinnibi, Valaine Clarke and Kareemah Muhammad. Akinnibi defeated Niyonkuru in the Gulf Regional final, and Clarke and Muhammad won the doubles title.
Bain, a former player at Albany Tennis Academy and a student of Windsor School, said he's pleased with his performance so far this year at Xavier University of Louisiana.
"I've been playing better doubles than I've been playing singles, so it's been pretty good," he said.
"After this tournament, I guess I will focus a little more on my singles. But I'm just happy, though, to be playing doubles in this tournament."