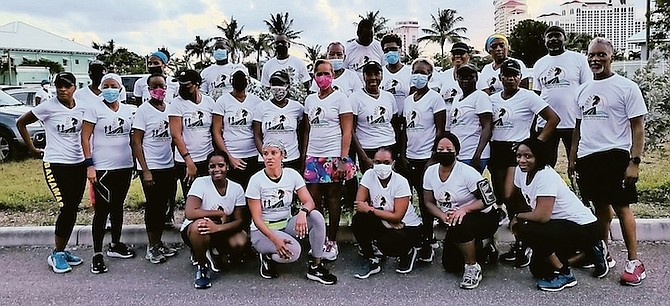 By BRENT STUBBS
Senior Sports Reporter
bstubbs@tribunemedia.net
ALTHOUGH we're still dealing with the COVID-19 pandemic, the Bahamas Roadmasters Running Club was quite pleased with the turnout for their virtual running of the 125th Boston Marathon.
The club joined the rest of the world in staging the event on Sunday. The participants traversed the 26.2 mile course from the Cable Beach Police Station and around the area.
Michael Cunningham emerged as the first place male finisher in four hours and 29.55 seconds, followed by club president Marcel Major in 4:31.42 and Douglas Storr in third place in 4:34.08.
On the ladies' side, Anastacia Turnquest captured first place in 5:19.14 with Leah Rolle second in 5:30.16 and Lynda Burrows got third in 5:31.29.
According to Major, the team members spent the past 18 weeks in intense training for the event.
"The turnout was phenomenal with 39 members of the club accepting the challenge and enduring the 18 weeks training to turn out in full force on race morning and completed the race," Major said.
Major congratulated the 10 first time marathoners in the club, the 19 members over the age of 60 who were among the 39 members who participated and completed.
"The rest of the club members who didn't run came out in full support of their fellow Roadmasters members," Major said.
"A few family members of some of the Roadmasters came out to assist with cheering and water stops etc. Special thanks to all that supported in some way. It was heartwarming to see the full support of the club and their family members."
The event was sponsored by Bahamian Brewery Ltd (Sands Beer), the Caribbean Bottling Company Limited, Suntee and Island Buggy Tours.
Major also thanked the Royal Bahamas Police Force and the print and electronic media for their support.
Next on the Bahamas Roadmasters' calendar of events is their signature race, Virtual 9th Bahamas Half and 10K Run. It's scheduled for the weekend of November 20-21 with competitors running from anywhere they choose and any time that is ideal for them.
Registration is open. Interested persons can visit Bahamashalf242.com for more details. "We are again appealing to the running public for their support," Major said. "This time, participants will have two days to complete the virtual event. We have included running swags (brand new 2021 Bahamas Half medals, t-shirts and a buff)."
The Roadmasters will provide proceeds from the event to the Nurses Association of the Bahamas.