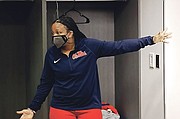 By RENALDO DORSETT
Tribune Sports Reporter
rdorsett@tribunemedia.net
EXPECTATIONS loom large for Ole Miss Rebels women's basketball head coach Yolett McPhee-McCuin and her programme with the return of a core group that finished as runners-up in the WNIT.
Following the team's first official practice of the 2021-2022 campaign, McPhee-McCuin said the learning experiences of last season has her group prepared to make inroads in a challenging Southeastern Conference.
"We're deep in a lot of positions. We have a lot of experience. I couldn't tell you who our starting five would be today," McPhee-McCuin said.
"They're competing really hard. We're excited. We're grateful that we have 10 TV games. We have high expectations. We'll be ready to compete. We're excited to have fans pack the Pavilion and be able to play a high-level brand of basketball. This year is going to show that we're going to be around for a long time."
The Rebels finished the season 15-12, for their first winning season since 2016-17.
After an 11-11 regular season, 4-10 in the SEC, they advanced to the first SEC Quarterfinal since 2004. Their résumé included three wins ranked teams and four Top-50 NET wins. They eventually fell to RIce in the WNIT title game.
"It's not the one we want this year. If we had gotten to the NCAA Tournament, who would say no to that? But, I was extremely excited when we got the WNIT bid because in the NCAA Tournament, you don't know who you're gonna matchup with in the first round, and you can be out of there on a boat somewhere.
"In the WNIT, I knew we had an opportunity to get at least two or three games. We ended up getting five games. For us, I don't know how to script it better. It was almost perfect.
"The icing on the cake would have been us winning the whole thing, just for our players to hoist up a trophy, nothing else. We weren't going to go out and brag that we won the WNIT to the recruits we're in the mix with. So to me, mission accomplished," she said. "I thought we got the experience, they got the exposure, we dealt with adversity with me being out with COVID for the first three games and them showing the maturity to figure it out.
"They looked like a well-oiled machine. We're just trying to build on that and add to that with the people we brought in."
Ole Miss recently signed McPhee-McCuin to a new four-year contract extension that runs through 2025.
"John Gordon says it best: expectations are outside influences. My focus is our inside expectations because when I look at rankings, when I look at outside opinions, those people are outside. Only us, we know where we are and where we're trying to go.
"So for me, what's important is how we feel after every practice. Do we feel like we got better? As a staff, do we feel like we put them in the best situation? Because the proof will be in the pudding come November 11," she said.
The Rebels are scheduled to open the 2021-2022 season inside the SJB Pavilion against the Belmont Bruins on November 11.