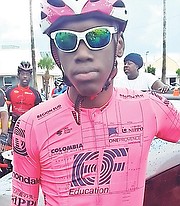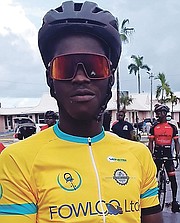 By BRENT STUBBS
Senior Sports Reporter
bstubbs@tribunemedia.net
BARRON Musgrove Jr and Felix Neely are all set to represent the Bahamas at the Caribbean Junior Cycling Championships in the Dominican Republic over the weekend of October 23-24.
Barron "Turbo" Musgrove Sr, the secretary general of the Bahamas Cycling Federation, said Musgrove Jr will compete in the juvenile category for competitors aged 15-16 years and Neely will compete in the junior category for competitors aged 17-18.
The two competitors, who will be managed and coached on the trip by Musgrove Sr, will both compete in the time trials on Saturday and the road race on Sunday.
"The Junior Caribbean Cycling Championships is age restricted for competitors between the ages of 15-18," said Musgrove as they prepare to leave town on Thursday for the trip.
"One of the reasons why we are not sending more of our junior cyclists is because they have not yet reached age 15. One or two of them, who are 15 and older, are not at that level yet because they just started cycling a few months ago."
As for Neely, he will be heading back to the championships after making his debut in 2019 when he placed fourth in the road race.
"He's going back with a little more experience, so we're expecting some good performances from him," Musgrove Sr said.
"He's one of our top junior and elite cyclists, so we're looking for him to be very competitive and should be able to compete for a medal in both segments of the event."
His son, Musgrove Jr, will be getting his first taste of an international cycling competition.
He has only competed for about two and-a-half years.
"We're looking forward to him gaining lots of experience and competing to the best of his ability," Musgrove Sr said.
Musgrove Sr said hopefully, the performances of both Musgrove Jr and Neely will serve as the impetus for the younger cyclists in their bid to compete in the next Caribbean Junior Cycling Championships in two years.