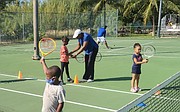 THE Bahamas Lawn Tennis Association (BLTA) through its Play Tennis programme is giving youth an opportunity to learn the sport.
The programme is held every Saturday at the National Tennis Centre starting at 9am and for a registration fee of $1.
It is focused on those aged 5-16-years-old and trains children in eye-hand coordination, footwork, forehands, serves, backhands and volleys.
"We are building up the sport one child at a time," BLTA president Perry Newton said.
"As our kids grow order and enter college we must ensure there is a next generation of tennis players in the country."
Registration can be made via email at pr@blta. net for the next session – scheduled for Saturday, October 23rd.
Safety protocols