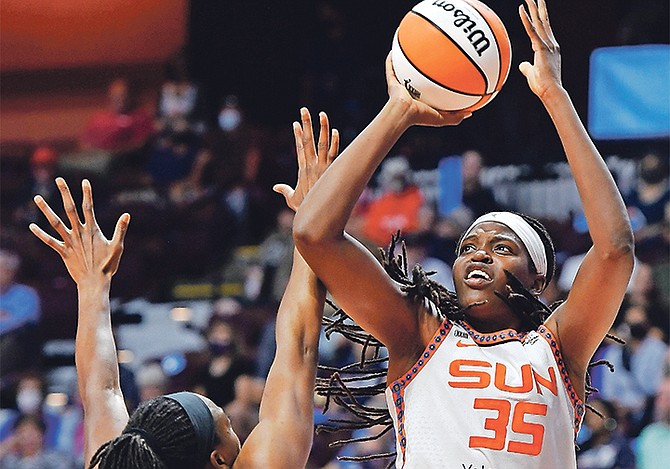 Following the best WNBA season of her career, Jonquel Jones was back on the court and joined the Russian powerhouse UMMC Ekaterinburg Foxes for the second week of FIBA Women's Euroleague.
Jones finished with 19 points and nine rebounds in her club's 92-73 win yesterday's win over the Basket Lattes Montpellier Agglomeration (BLMA) Lattes, France.
The reigning WNBA MVP went 8-15 from the field, 2-5 from three point range, and also added two blocked shots and two assists in just over 21 minutes.
UMMC will return to Euroleague play on October 27 when they will host USK Praha in Ekaterinburg, Russia.
The Foxes, favoured to repeat as Euroleague champions for the seventh consecutive year, boasts a roster that also includes Brittney Griner (Phoenix Mercury), Breanna Stewart (Seattle Storm), Allie Quigley (Chicago Sky) and Courtney Vandersloot (Chicago Sky).
Jones finished with nine points, 11 rebounds and two blocked shots in the Foxes' 78-68 win over Perfumerias Avenida in the Euroleague finale last April in Istanbul, Turkey. UMMC concluded the season undefeated and ran their Euroleague win streak to 19 games. They scored on average 91 points per game in that span and more than 100 points in four of those games. The Foxes led the Euroleague in scoring last year at 88.6 points per game.
Jones averaged 14.5 points and 7.5 rebounds per game in Euroleague play. She also shot 74 percent from the field and a league leading 62 percent (8-13) on three point field goals.
Jones' extended offseason last year included three championship titles with the Foxes. They claimed their sixth FIBA Women's Euroleague title. The Foxes' season of milestones also included the Russian Premier League title for the fifteenth time in club history, and for the thirteenth consecutive season, along with the RFB Super Cup.

"We didn't lose a game, so I don't think you can do too much better from that standpoint," Jones said about her 2020-21 UMMC experience, "I just worked on a lot of things and was able to sharpen myself playing against the best players every day in practice, playing with them on the court."