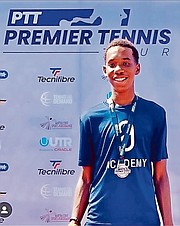 MICHAEL Major Jr, one of the top rising young Bahamian tennis players, participated in the Universal Tennis Tournament over the weekend in Fort Lauderdale, Florida.
Major Jr, the only Bahamian to participate in the event, got to the final of the men's singles where he lost 6-4, 6-4 to American Jousha Sagaille, who at 23-years-old is eight years older than the 15-year-old Major Jr.
After getting a bye in the first round of 64, Major Jr won his second round match 6-2, 7-5 in the round of 32 after being down 3-2 and 30-0. In the third round of 16, Major Jr won in identical scores of 7-5 and 7-5.
Major Jr, a student at Windsor School and the Albany Tennis Academy, went on to the quarter-final where he pulled of a hard fought 6-4, 23-6, 10-5 win before he emerged as the winner of his semi-final showdown with a 6-4, 3-6, 10-8 decision.