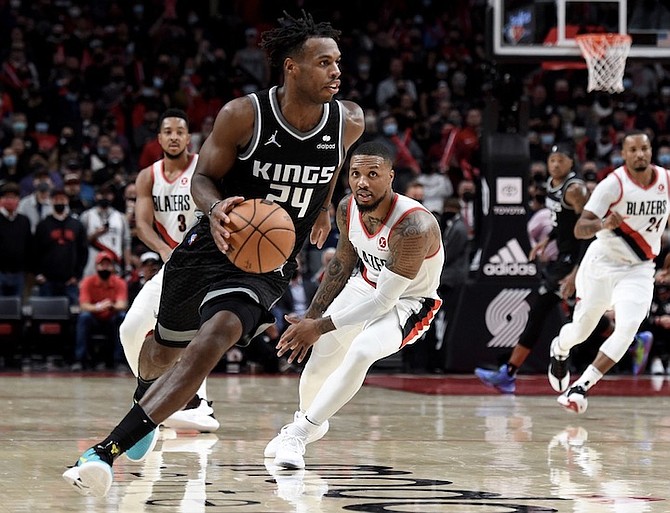 By RENALDO DORSETT
Tribune SPORTS REPORTER
rdorsett@tribunemedia.net
Chavano "Buddy" Hield's sharpshooting continues to etch his name into the Sacramento Kings record books.
Hield became the franchise's all-time leader in three-point field goals made and surpassed the mark of 1,070 set by Peja Stojakovic in the King's 2021-22 regular season home opener, a 110-101 loss to the Utah Jazz.
Hield shot 6-15 from three-point range and finished with 24 points and seven rebounds in 26 minutes.
Stojakovic spent eight years with the franchise and had a single season high of 240 three point makes in the 2003-04 season. Hield accomplished the feat in just six seasons and has had single season highs of 278, 271 and 282 three point makes in the last three seasons.
"I'm very humble, very blessed, passing a guy like Peja Stojakovic, a Sacramento Kings legend. What he's done for the game of basketball, for Europeans, for international kids. I'd be lying if I told you I'd never watched him or played with him in a video game. But I never thought I'd be here in a million years saying I broke his record," Hield said. "It's a humbling experience but I just have to keep moving forward, keep chasing other records, better myself, and try to rack up more wins for this team."
Hield headed into Sunday night's contest against the Golden State Warriors with a total of 1,076. Last season, Hield became the fastest player in NBA history to make 1,000 three pointers in his career. Hield set the mark in just 350 games to reach the milestone faster than Stephen Curry of the Golden State Warriors who held the previous record of 369 games.
He credited several traditional Bahamian games in his childhood as unconventional training methods for his future career path.
"As a kid, we all played a lot of games. We shot marbles in the dirt, I was a really good shooter just focusing on aiming. We used to throw a lot of rocks in trees, stealing mangoes, so you had to hit the mango out the tree, run in somebody's yard and dash out quickly so you don't get caught. Weird stuff like that," Hield said.
"You think I'm joking but that stuff kept my focus right. When I fell in love with the game of basketball shooting came naturally, it wasn't hard for me."
Hield said he was honoured to learn that Curry noted him as one of several players that could challenge more of his three-point records in the future.
"I talk to him a lot on the court. He's my favourite player now in the league to watch because of the stuff he does for the game. Being that size, being able to change the game and bring that excitement to the league," Hield said of Curry.
"If it happens it happens, if it doesn't, it doesn't but at the end of my career hopefully I can crack top five, top 10 lists, that would be pretty ideal for me. However long the Lord allows me to play, I would like to be in that range."
A career 40.6 percent shooter from deep, who was traded to the Kings midway through his rookie season, Hield has continued to produce despite moving in and out of the Kings' starting lineup in recent years.
"I'm just doing what the team wants me to do. I'm doing my job," Hield said. "Whenever Luke [Walton] puts me in and calls my number, just go in and do my job. If he starts me or if he doesn't I just have to be professional, do my assignment and make something happen when I get out there...be effective."
Kings head coach Luke Walton said the achievement serves as a testament to Hield's work ethic over the course of his career.
"It's pretty incredible that he broke Peja's record. Peja is one of the all-time great shooters in this league and for Buddy to do it so quickly - I know there's a lot more threes being shot now - but it just really speaks to the type of shooter he is, which speaks to the type of worker he is because that's the only way you can really shoot like that, so I was happy for him," Walton said. "He's been fantastic since camp started, our message has been the same, nothing matters, it's our team - start or don't start we're all in this to win and he's been 100 percent bought in and he's been playing some real good basketball for us."
The Kings begin a four-game homestand Wednesday when they host Deandre Ayton and the Phoenix Suns at the Golden 1 Center in Sacramento, California.