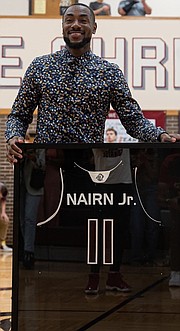 By RENALDO DORSETT
Tribune SPORTS REPORTER
rdorsett@tribunemedia.net
LOURAWLS "Tum Tum" Nairn Jr achieved another career milestone on his basketball journey and received the highest honour from his alma mater.
The Sunrise Christian Academy Buffaloes retired Nairn's No.11 jersey at a ceremony to conclude the programme's "Sunrise Madness" event in Bel Aire, Kansas.
"What a night.. To be honest, this isn't a dream come true. It's more than that because I never dreamt of this. When I left home in the Bahamas at 13 years old, my goal was to give everything I had to be the best I could be. This is one of the results of that," Nairn said in a message posted on his personal social media accounts. "To my parents, family, friends, teammates, coaches, and everyone else who has helped me on my journey in any capacity. Thank you guys for all you've done for me. This could never be possible without any of you. Having my jersey retired at Sunrise, is one the greatest accomplishments of my life. Lord Jesus, thank you for your grace."
Nairn is currently the head coach of the Buffaloes' post graduate basketball programme, the first head coaching appointment of his young career.
During his playing days at Sunrise, Nairn rose from a little known recruit to a highly sought after Division I prospect.
In his senior season with the Buffaloes, he averaged 17.6 points, 5.7 assists, 2.8 rebounds and 1.7 steals per game to lead SCA to a 16-3 record. He shot 52.4 percent from the field, including 38.9 percent from three-point range and started every game over his final two seasons.
Nairn went on to play four seasons for the Michigan State Spartans and was part of two Big Ten championship teams while reaching the Final Four in his freshman season of 2015.
He spent the 2018 season in a role with the Phoenix Suns as a member of the coaching staff with a focus on player development and also made his debut as an author with an autobiography entitled "Purpose Driven."
He followed with the last two seasons with his collegiate alma mater as a member coaching staff as a graduate manager. "It is such a blessing to be able to start my coaching career at my high school alma mater; a place that is so close to my heart," Nairn said. "Like being a graduate manager the past two seasons for Coach Izzo and the Michigan State Men's basketball team (my college alma mater). "This opportunity is another depiction of the grace of my Lord and Saviour, Jesus Christ. I'm ready to learn, lead, motivate, inspire, and most importantly serve."
Nairn was one of several players in the pipeline from The Bahamas to Sunrise Christian that also included Sacramento Kings guard Chavano "Buddy" Hield along with Division I talents Nathan Bain (Stephen F Austin), Travis Munnings (Louisiana-Monroe), and Radshad Davis (UT-Arlington/FIU) among others.
Hield's No.24 jersey was retired at the 2020 edition of Sunrise Madness.
"For me to come back to where I played, it shows that Sunrise was all about family.
"For me to go back to Michigan State shows that Michigan State was all about family," Nairn told NBC affiliate WILX 10.
"I want to take that to Sunrise, spending time with my players, trying to be in their lives in a positive way. I care more about them as a person than I care about them as a basketball player. I need to take more time to really look and see where a kid is from, what a kid is going through."