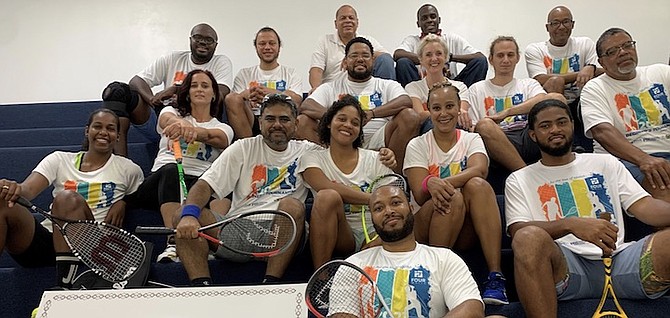 TWENTY two-year-old college student Shawn Knowles won the inaugural Beginner's Squash Tournament at Four Walls Squash & Social Club on Sunday, during a buzzing day of competition and camaraderie at the newly renovated Village Road facility.
Four Walls has been reviving the indoor racket sport as a wellness alternative for adults who enjoy exercising outside of the gym. Twelve players, with an average of five months squash experience, participated in the one-day, amateur club event.
"The tournament was an extension of our adult learn-to-play programme, which has grown tremendously over the past year. It was a fun, open tournament with a mix of male and female players from 22 to over 45 years old, including an engineer, film director, auditor, nurse, investment banker, student, retail sales manager, entrepreneur and others," said tournament director Michael Fields about the diverse group of players.
"The common thread - everyone had less than 12 months' experience playing the sport. The sportsmanship was very commendable. It was a very competitive environment, but everyone understood at the end of the day, it was for fun," said Mr Fields.
The winning prize was a roundtrip Family Island ticket for two on Bahamasair and a new squash racket.
"I haven't done anything competitive like that in a while so it was a breath of fresh air for me honestly. I loved it, I loved every moment of it. I wasn't expecting to win anyway," said tournament winner Shawn Knowles. "I just went there saying I was going to play my best and, you know, it just took me all the way. "
To create a safe environment, Four Walls required mandatory COVID-19 rapid-antigen test for participants and spectators, and provided on-site testing courtesy of the Family Medicine Center. The event was sponsored by International Private Banking Systems, Milo, Exotic Sound Design, and Technical Adjusters Bahamas Limited.
Runner-up and electrical engineer Rande Nicolls expressed disappointment over his loss but still enjoyed playing alongside the newest cohort of squash players:
"Unfortunately, I didn't get the top spot, but second place is good. I'm happy with the way I performed," he said. "We've been playing with each other throughout the last few months, helping each other improve, getting to know each other, and having a good time. So we had fun with it. It was a great experience."
The beginner's tournament is one of many events planned by Four Walls to promote wellness and keep players active and engaged.
Spectator Chynella Cunningham, who used to play squash at the old club and was impressed by the fresh, lively feel that had been injected into the space through its new ownership, attended the event to cheer on her co-worker Deepak Sharma. He made it to the semifinals. "I love the atmosphere, I love how it's really improved. When I played 20, almost 30 years ago, it was not like this – and that's how long I've not been here," Cunningham said. "It's a very energised environment. I love it."
Four Walls offers more than squash at its facility as its three hardwood courts double as boutique fitness studios. Renovations are also underway outside to transform the Four Walls patio into a terrace café and bar, adding to the entertainment offerings and social spots in the east for professionals.
"The tournament was really organised. It was nerve wracking but, nonetheless, really good vibes. Everyone was there to have a good time and just show off what we've learned over the past couple of months," said film director Margaret Glynatsis. "It's a great community, great workout, nice networking, and a nice, safe environment. You get addicted to the game,"
Patricia Umali finished second in her division.
"I actually think that my game improved a bit more just from the tournament. I can't even lie and say that I'm a beginner anymore and it's simply because of how they invest in you here at Four Walls," she said. "All the pros are always here to help you and give you tips. It's just a fantastic environment."
All of the players have now officially graduated from the club's beginner ranks, and will participate in intermediate levels in future tournaments.
Four Walls hopes to attract more players to the sport in time for its second annual beginner's tournament next year.
Learn-to-play classes with affordable group coaching take place five days a week (Monday to Thursday, 4pm to 6pm and Saturdays, 10am to 1 p.m.).
Interested players can book online anytime at www.fourwallsbahamas/ book