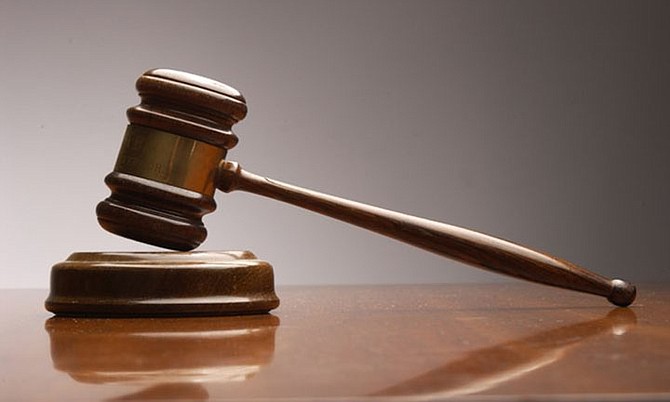 By FARRAH JOHNSON
Tribune Staff Reporter
fjohnson@tribunemedia.net
A Royal Bahamas Defence Force officer was convicted of pulling a gun on his former girlfriend and her new lover yesterday and has been ordered to pay $5,000 to avoid spending 18 months behind bars.
Police said Demeko Simms waved a black and silver coloured gun in the faces of his ex-girlfriend and her current boyfriend when he showed up her residence unannounced last year.
Although he denied two counts of assault with a deadly weapon during his trial before Magistrate Samuel McKinney, he was convicted of the offences at the close of his case.
When Sergeant 3216 Percy Patton took the stand in July, he said he facilitated a meeting with Simms and the male complainant the day after the incident was alleged to have taken place. Sgt Patton said during the meeting, the man stated that Simms pointed a black and silver handgun at him while he was at his girlfriend's Key West Street residence. Sergeant Jewel Gray also met with Simms and his ex-girlfriend. She said during their meeting, the woman said she was at home with her boyfriend when Simms came there "unannounced", produced a firearm and threatened to kill her.
Meanwhile, the evidence of the defence was that Simms' ex-girlfriend invited him to her house on the night in question. When Simms testified on Monday, he also claimed his ex told him her boyfriend pressured her to press charges and that she did not intend for the situation to escalate the way it did.
After listening to witnesses from both sides, Magistrate McKinney said the court "accepted the evidence of the complainants over the evidence of the defence".
He noted that when Simms' ex-girlfriend testified, she said she was outside her residence when the accused arrived uninvited. He added that based on Simms' and his ex-girlfriend's testimonies, it was clear that although the woman asked him to leave, he still followed her inside her apartment. Magistrate McKinney said because of this, Simms' entry could be considered unlawful.
"The court considers that in cross-examination it was suggested that you never entered her residence," he said. "But yesterday when you gave evidence you admitted entering the residence (showing) inconsistency in your defence."
Magistrate McKinney said another inconsistency he found was the fact that Simms said that he and his ex-girlfriend were not in a relationship at the time of the incident.
He said: "The court has to consider her evidence that suggests there was not an existing relationship between you all (that would justify) you showing up to her residence. You suggested you went there to catch her in the act, but if the relationship was over why would you still be interested in catching her?"
Magistrate McKinney said in view of those facts, he found that the prosecution had proven their case beyond a reasonable doubt. As a result, he convicted Simms of both counts.
Simms is represented by attorney Bjorn Ferguson. He asked the magistrate to be lenient as his client was a RBDF officer who had served the country as a marine seaman for three years.
However, Magistrate McKinney said that a person who swore to serve and protect should be held to a higher standard. He also told Simms that given his level of training and experience as a uniformed officer, he should have known when to use a firearm. As a result, he fined him $5,000 or 18 months in prison.
He also placed him on probation for 18 months and warned him not to interfere with any of the witnesses involved in his case. Magistrate McKinney said if he failed to stay out of trouble within that time frame, he would be sentenced to six months in prison.