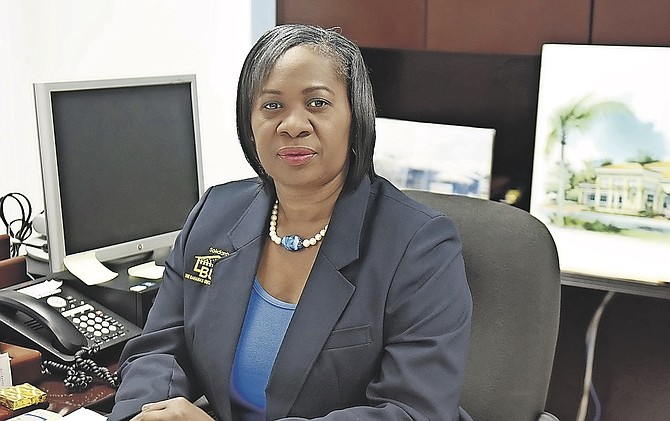 By KHRISNA RUSSELL
Tribune Chief Reporter
krussell@tribunemedia.net
BAHAMAS Union of Teachers President Belinda Wilson has expressed "disgust" and "disappointment" that a new industrial agreement has not been signed with the government despite 14 months of negotiations and 95 percent of the contract being complete.
She said only three sessions were needed to finish the document.
Despite this, she said numerous attempts to cross the finish line fell on deaf ears.
"I would be remiss if I did not publicly express the disgust, disappointment and repugnance felt by the Bahamas Union of Teachers after spending 14 months at the table negotiating a new industrial agreement," Mrs Wilson said recently.
"The negotiations are 95 percent complete, and we only need approximately three sessions to complete the entire document, which sets out the terms and conditions of service, salaries and benefits for 3,000 plus teachers, teachers' aides, guidance counsellors and librarians in all public schools from Grand Bahama to Inagua.
"Despite the BUT's persistence to have this agreement completed and not withstanding writing letters to the prime minister, to the lead negotiator, to the permanent secretary of the Ministry of Education and to other government officials as recently as September 7, 2021, urging them to complete the negotiations this proved fruitless."
She continued: "So, today the Bahamas Union of Teachers is putting all political parties on notice just a few days before the September 16, 2021 general election. Whichever party becomes the government, the Bahamas Union of Teachers is the sole bargaining agent, and we expect and we demand that priority is given to the resumption and the completion of negotiations for a new industrial agreement for our 3,000 plus members and educators in the public school system that falls in our bargaining unit.
"Governance is continuous. Teachers have been very patient, but rest assured there will be no honeymoon. A word to the wise is sufficient."
Lead negotiator Dr Ranford Patterson told The Tribune yesterday a number of factors contributed to the talks stalling, ultimately meaning the agreement could not be finished. These include last week's advanced poll and the upcoming general election on Thursday.
However, he said officials were still committed to reaching the finish line as soon as possible.
Dr Patterson said: "The only thing that I can say is that negotiations stalled because at times both sides weren't available, but we were going along quite good until we got to a point where we just couldn't go any further because (the) election was called and some of the persons on both sides are returning officers.
"We met on Tuesdays and Thursdays and then we had the advanced poll Thursday when we were supposed to meet. So, it was not that we didn't want to meet, it's just that circumstances didn't allow us to meet.
"I think we had a fairly good relationship with the union working through the industrial agreement and hopefully the agreement will be completed very shortly. We only had a few more meetings. It was just that the elections stopped us from doing what we had to do.
"We were meeting every other Thursday and the Thursday we were supposed to meet, it was the advanced poll and then this Thursday is the election. So, there is nothing we could have done. It's just that the timing was just off."