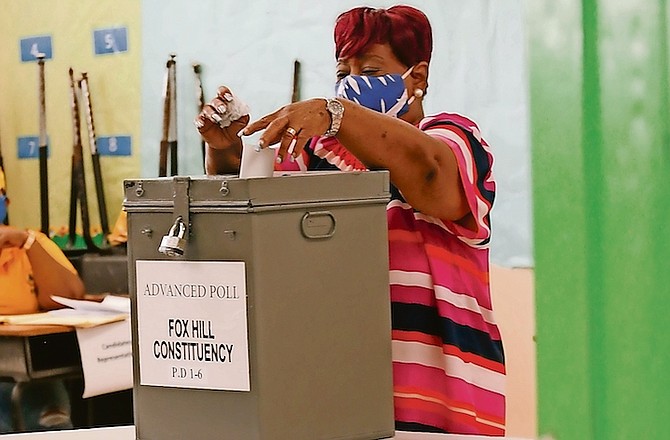 By LEANDRA ROLLE
Tribune Staff Reporter
lrolle@tribunemedia.net
ACTING Parliamentary Commissioner Lavado Duncanson yesterday outlined several changes registered voters could expect to see at the polls today in what officials hope will allow for a smoother and more efficient voting process following last week's chaotic scenes.
According to Mr Duncanson, there will be special provisions made for the elderly and disabled voters.
He said the Parliamentary Registration Department had received a number of complaints about long waiting times from people in this category, many of whom were seen huddled under trees and other places in an effort to avoid the blistering sun during last week's advanced poll.
"We can appreciate that during the advanced poll, there would've been some 19,000 persons who would've been on the advance poll register," Mr Duncanson told reporters after touring the AF Adderley High School voting site along with other officials.
"We would have received feedback as it relates to the lines and the individuals within that category who would've specifically had to stand on the long lines. One of the provisions or adjustments we are making for the general election is a waiting area for persons who are 65 years and older. Some of the campuses, those waiting areas will comprise of tents that are being erected as we speak by men and women of the Royal Bahamas Defence Force.
"Those areas will serve as a waiting area where persons within that category – disabled, as well as 65 years and over, who intend to cast their vote tomorrow can be accommodated and can be seated," he added.
Mr Duncanson said once such people present themselves at polling sites, they will be escorted to designated waiting areas.
Additionally, voters can expect more election signage.
"We got feedback about the inadequate signage that would've taken place on the advanced poll day," he added. "We intend to provide the signage that clearly indicates the constituency (and) the polling divisions that are located within those constituencies."
He also assured the public that ballots will be properly sealed and safely transported after concerns were raised about the issue during last week's advanced poll.
Asked if voting hours could be extended given the thousands of people expected to vote today in view of current health protocols, Mr Duncanson said it depends on several factors.
He noted: "The way that the voting process would be extended is if there (is) some interruption with (the) process during the course of that day. If there's an individual who happens to be on the line prior to the 6pm timeframe, those individuals will be permitted to vote if we go beyond that timeline if they are on the line up to the 6pm deadline.
"Also, it depends on if there is a disruption, interruption during the course of the day. Such things would put us in the position to make a determination along those lines," Mr Duncanson added.
This comes as the country battles its third wave of the coronavirus.
Although health officials have reported a "notable decrease" in new infections in recent weeks, hospitalisation rates still remain high.
Yesterday, Senior Assistant Commissioner of Police Ashton Greenslade warned that COVID-19 protocols will be strictly enforced and encouraged the public to adhere to all health and safety protocols.
He said some 700 police officers will be working at polling sites, assisted by COVID-19 ambassadors and members of the Royal Bahamas Defence Force.
We'll be on the lookout for any breach of the law and where we find it happening, we'll take action. We have our police stations on the site where we have a police diary and we have sufficient officers to deal with any breach," ACP Greenslade said.
However, ACP Greenslade could not say if the curfew also will be enforced.
"That's the question that we'll have to answer a little bit later but like I said, our primary focus is on security and safety," he replied when asked about the issue.
Meanwhile, RBDF Senior Commander Fredrick Brown added: "We're working closely in conjunction with the police force in all of the matters that was said previously by (ACP) Greenslade. Notwithstanding, the overriding theme being polling station integrity, we're also involved in the protection of our critical installation… so persons are in those areas installations such as water and sewerage, BPL, BTC, ZNS and we're offering some further assistance even to PMH toward those ends."
For his part, National Security Minister Marvin Dames said he is pleased with the changes that have been made to ensure a "safe and fair election" and feels confident that today's process will be a smooth one.