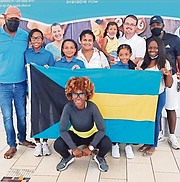 THE Bahamas Lawn Tennis Association (BLTA) has fielded a three-member team to represent the country at the 2021 COTECC Under-12 competition.
The team, coached by Marion Bain, will consist of Tatyana Madu, Kayla Fox and Briana Houlgrave, who will all be competing for the first time at this international event.
The competition will take place from September 26 to October 2 in Santo Domingo, Dominican Republic. The tournament is played like the Davis Cup/Billie Jean King Cup format.
Each event will be played with two singles and one doubles.
The first two teams of each Sub Region plus two teams from Mexico will qualify for the ITF/COTECC U12 Team Final, which will take place on the week of November 22.
The venue will be the Centro Nacional de Tenis Parque del Este where there are 13 hard courts.
The tournament director is Sergio Tobal.
The best of the best in the U12 in the region will be competing including the following invited nations: SR3: Bahamas, Bermuda, Cayman Islands, Cuba, Haiti, Jamaica, Puerto Rico and Dominican Republic (host) SR4: Anguilla, Antigua & Barbuda, Aruba, Barbados, British Virgin Islands, Grenada, Guyana, Curacao, St Lucia, St Kitts and Nevis, St Vincent, Suriname, US Virgin Islands and Trinidad & Tobago.
BLTA president Perry Newton, along with parents of the players, was on hand to bid them a safe trip.