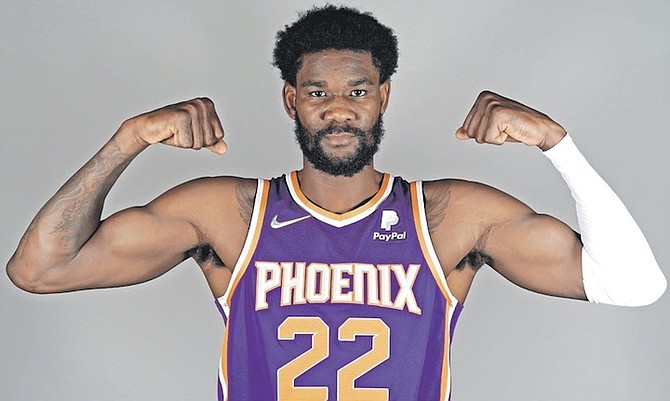 By RENALDO DORSETT
Tribune Sports Reporter
rdorsett@tribunemedia.net
Deandre Ayton's development was one of the main talking points of Phoenix Suns' media day as the Western Conference finalists look to return to the NBA Finals and reverse those results.
"I still couldn't believe I went to the Finals. After seeing all the content come through and all the highlights, I couldn't believe that was me, being 22 and doing the things I did out there on that platform.
"It was hard to process, knowing that we lost all the games and what you could have done or should have done. It's just basketball — at the same time, I know me and my guys tried our best. It's always a trial run next year, and I think we finally got back to where we're a team and we know what needs to be handled," Ayton said. "I know there's a lot of people that don't — they think it was a fluke. But hard work always speaks for itself and we don't really pay attention to what other people got going on for themselves. We just put our head down and we get working."
Ayton's memorable 2021 postseason run ended at the hands of the Milwaukee Bucks, who won the series 4-2 to claim their first NBA Championship since 1971.
In Ayton's playoff debut he averaged 15.8 points and 11.7 rebounds per game. He shot 65 percent from the field and finished with 14 double doubles.
According to StatMuse, Ayton is the first player in NBA history to average at least 15 points and 10 rebounds per game on 65 percent field goal shooting in a single playoffs (minimum of 10 games).
In the Finals, Ayton averaged 14.7 points, 12 rebounds and 1.5 blocks per game on 54 percent shooting from the field. He posted 22 points and 19 rebounds in his NBA Finals debut and followed with 10 points and 11 rebounds in game two - both wins for the Suns. He followed with 18 points and nine rebounds in a game three loss, six points and 17 rebounds in game four and finally 20 points and 10 rebounds in game five.
He said he looks for the team's growth to continue this season.
"I mean, I'm really excited, because now I know how the league is. I know what they threw at me and I know what's going to be thrown at me. So I know the type of level of commitment I have to give to my team and type of dedication it takes to even touch the playoffs and stuff like that. So just to see the number of fans and people that love you, that stuff is addicting right there, man. Just being on top of the world and people getting to see your talents and hard work," Ayton said, "We know the task at hand. I think we got enough vets, that we just can't throw the ball out there and say we know what we're doing. But I think, like you said, the guys that were out there and played, definitely can set the foundation of how we play and what our culture is like for the other guys. I think guys that we added to the team will can adjust."
In 2019, the Suns were just 19-63 and improved to 34-39 in the 2020 season, the first year under current head coach Monty Williams. The Suns headed into the 2020-21 season buoyed by their 8-0 performance at the NBA Bubble and the addition of future Hall of Fame point guard Chris Paul.
They went on to finish the regular season with a 51-21 record. Phoenix won the Pacific Division title for the first time in 14 years and one of the league's longest playoff droughts when they earned a postseason berth for the first time in 11 years. They also made their first NBA Finals appearance in 28 years.
Ayton appeared in 69 of the Suns' 72 games in the regular season. He averaged a double double for the second consecutive campaign - 14.4 points and 10.5 rebounds per game.
"I think it's funny — I sacrificed a lot. I don't think the world's really seen my game and the type of window I have to where I already know what the requirement is. It's just me adding on, being more of an offensive threat, and doing the things I want to do now. Where, I already got everything handled to where I don't have to, how long I stay in the key or how long I switch, I already have all that stuff handled. Being that, my foundation."
Off the court, Ayton said learning his role as a father to his young son Deandre Ayton Jr, has been his most important adjustment off the floor.
"I get a lot of help," he said, "It's a whole village raising my child right now. I got people from my mom's side, girlfriend's side. Everybody's in town, just having all hands on deck, helping me out. Helping us out."
Phoenix will open the regular season at home on October 20 when they host the Denver Nuggets.
They will be featured in a franchise record 34 nationally televised games this season, an increase from 13 last season. This year the Suns will play on ESPN 11 times, TNT nine times, ABC three times, and NBATV 11 times. Their 34 nationally televised games rank fifth in the league.