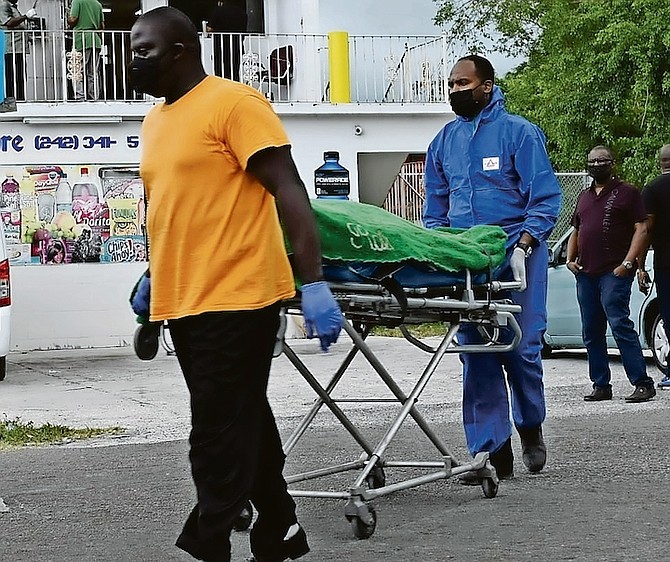 By LEANDRA ROLLE
Tribune Staff Reporter
lrolle@tribunemedia.net
A MAN in his mid-20s was shot and killed at a barber shop yesterday afternoon, police said.
Supt of Police Audley Peters told reporters on the scene that officers were alerted to a shooting at the interval of Baillou Hill Road and Marshall Road sometime before 4pm Sunday.
Upon arrival, police found a man suffering from gunshot wounds.
"Our initial investigations reveal that the male was a patron of a barber shop when a lone gunman walked in and discharged the firearm at him. The victim managed to walk down the step and collapsed. EMS visited the scene and pronounced him lifeless," Supt Peters said.
This latest shooting has pushed the country's murder count to 36 so far for the first four months of the year, according to The Tribune's records.
Sunday's homicide also follows a string of murders in recent weeks.
Supt Peters asked people to inform police about illegal weapons in their communities.
"Again, as we're going to continue to do as a police department to appeal to persons who are aware of individuals in possession of firearms to report them to their police department," Supt Peters said.
 "And I also want to encourage the public that the police are doing everything within its power as we would've recently launched the Operation Ceasefire that has already reaped a significant amount of results where we would've taken 150 rounds (of ammunition) off the street and three firearms. Persons were arrested, and they will be brought before the court within the week following a thorough investigation.
 "So, we're encouraged with the reports that we're receiving. We're acting on information and it's through partnership with the Bahamian people and capable guardians that we're going to take a hand on this criminal activity," he said.
 Anyone with information on this incident or any other crime is asked to call police at 502-9991, the nearest police station, or Crime Stoppers at 328-8477.