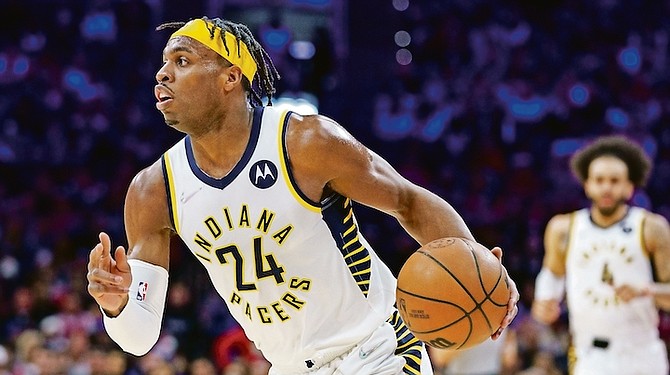 By RENALDO DORSETT
Tribune Sports Reporter
rdorsett@tribunemedia.net
Buddy Hield had a strong conclusion to the 2021-22 season for the Indiana Pacers and he is looking forward to his future with the third franchise of his NBA career thus far.
Hield was traded to the Pacers in February and in 25 games with the club, he averaged 18.1 points, 5.2 rebounds, and 4.7 assists per game. He shot 45 percent from the field and 36 percent from three point range in just over 35 minutes per game.
Prior to the trade, Hield averaged 14.4 points per game and made 182 three pointers, and was shooting a career-low 37 percent in 28 minutes per game with the Sacramento Kings.
Hield said one of his main goals this offseason is to improve his three point percentage.
"Take time off? I don't know. I hate being bored," he said.
"I'm excited about this coming summer, I'm excited about this coming season."
Hield ranked fourth this season in both three point makes (262) and attempted (716) this season.
As a Pacer, Hield reached another career milestone as one of the NBA's premier shooters. He moved into 50th place in career three-point field goals made when he surpassed 1,397 through his six year career.
He achieved the mark in a 132-123 loss to the Atlanta Hawks on March 28.
He shot 5-7 from three point range and finished with 26 points on the night.
Hield surpassed former Three Point contest champion Brent Barry and at the conclusion of the season, has made 1,417 three pointers. He now trails the Hawks' Danilo Galinari at no.49 on the all time list with 1,426.
He played in 385 of 388 possible games during his time with the Sacramento Kings. He left as the franchise's all-time leader in three point field goals made.
Despite the three point career milestone, Hield said the move to Indiana has afforded him new opportunities that have allowed him to display his skillset on the floor.
"I'm proud of myself," Hield told reporters after the milestone performance against the Hawks. "I was able to do a lot of things I wasn't able to do over there in Sacramento. I make plays for my teammates. [Rick Carlisle] has trusted me a lot to do more, and that's something I wanted to do. In Sacramento, they didn't let me do that. I was just a guy to stand in the corner and just catch and shoot. Change is great for me. I'm happy with the change."
Also on his résumé, Hield made more three point field goals than any other player through the first 400 games of their NBA career. He set the mark of 1,209 three pointers in his 400th on November 12, 2021. Hield also became the fastest player to make 1,000 career three-pointers in NBA history. He set the mark in just 350 games to reach the milestone faster than Curry, who held the previous record of 369 games.
The Pacers depth chart at guard now includes Hield, Malcolm Brogdon, Tyrese Halibuton, Lance Stephenson and rookie Chris Duarte.
Halliburton came over to the Pacers alongside Hield and Tristan Thompson while All-Star forward Domantas Sabonis, Jeremy Lamb and Justin Holiday were dealt to Sacramento.
Halliburton, in just his second season, is still under his rookie contract and is considered the point guard of the future while Brogdon is owed $67.6 million over the next three seasons but cannot be traded until the offseason because of his recently signed extension in October 2021.
"It doesn't matter where he's at, he's a fun guy, high spirit. I think everybody knows what Tyrese can do already . . . Everybody loves him," Hield said, "Everybody loves to play with him. He's a willing passer and everybody likes to play with a willing passer."