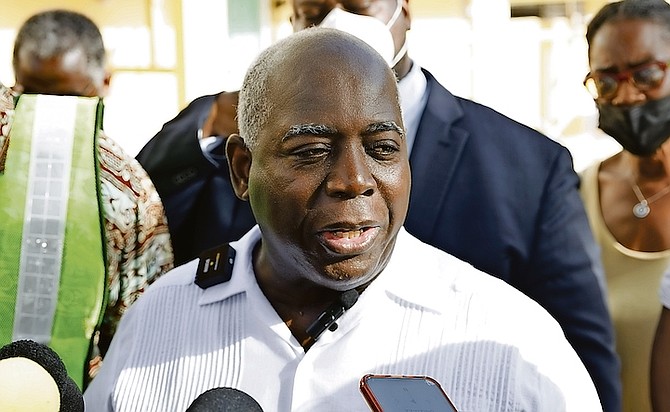 By LEANDRA ROLLE
Tribune Staff Reporter
lrolle@tribunemedia.net
PRIME Minister Phillip "Brave" Davis has described as "alarming" this year's current rise in cases of murder.
On Tuesday, Police Commissioner Clayton Fernander revealed homicides were up by 21 when compared with 2021. He also said there was a rise of 49 percent in armed robberies so far this year.
In response  Mr Davis said his administration plans to tackle escalating violence by placing more focus on crime prevention rather than detection.
"We don't embrace it and we will do all that we can to try to reverse that trend," Mr Davis told reporters.
"And we start not from after the murders would have taken place, but we're going to put more emphasis in prevention rather than detecting because we think that if we work to identify the root causes of the challenges our young people are having that lead them to do what they're doing, we will be more successful.
"I think over the years, we have put too much emphasis on detecting crime rather than seeking to prevent crime and that's going to be our emphasis moving forward."
According to Commissioner Fernander, there have been 85 murders recorded in the country to date, equating to a 21 percent increase when compared to the same time in 2021.
He also revealed that 55 percent of the victims killed this year were out on bail.
Despite the increasing crime rates, Mr Fernander said he believes police will be "able to hold the line" when it comes to fighting crime.
"I still believe that we will be able to finish the year strong," the police chief added. "still under 100. In 2018, before I went on leave, we had the count under 100 after two decades. We will do it again… and we intend to fix that and do just that and still under 100."
"There's still a few more months to go and I believe that we will be able to hold the line and finish strong."
Mr Davis previously told reporters that one of things his administration has been looking at to tackle crime is the possibility of enacting an anti-gang bill.
He has told Attorney General Ryan Pinder to look at regional gang legislation to determine if a standalone new law should be enacted or if changes should be made to the Penal Code.
This comes amid heightened suspicions from police that many of recent homicides could be gang related.
When asked for an update on the issue yesterday, the Prime Minister said: "We are collaborating now with the Commissioner of Police and other stakeholders in this initiative as to what we come in with and when we come up with a plan, you will hear from me."